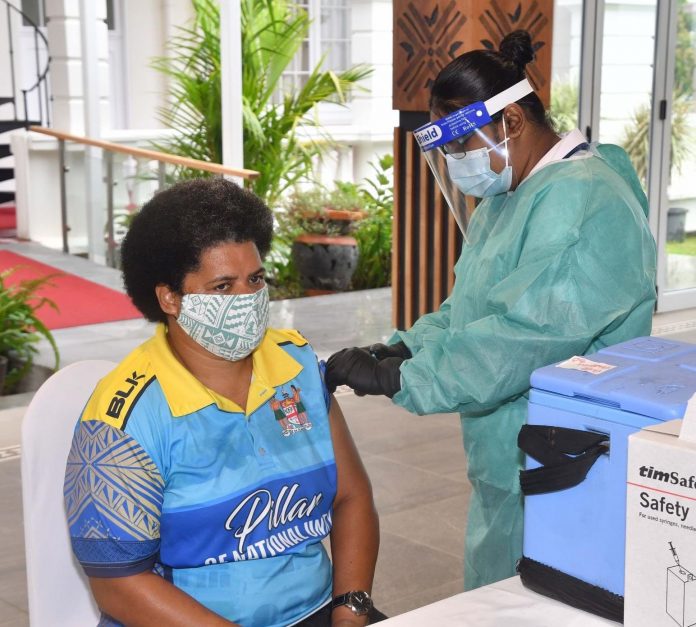 All employers and employees in Fiji's private sector and statutory bodies are to receive at least one dose of the COVID-19 vaccine by 01 August, 2021 in accordance with the Health and Safety at Work Act.
Prime Minister Voreqe Bainimarama highlighted this while delivering his statement Thursday night.
He said: "It is simply unfair for anyone to risk the health of their co-workers or their customers, or risk undermining a business's operations because they refuse to get a vaccination that is known to be safe and effective."
"It does not matter if you are the CEO of a company, a sole trader, or a salaried employee – you must be vaccinated to continue working or else that business will risk being shut down," Bainimarama said.
"No jabs, no job – that is what the science tells us is safest and that is now the policy of government and enforced through law," he said.
"We have not locked everyone in their homes for all hours of the day. A period of 28 days of a hard lockdown — as some are calling for — cannot be strictly enforced everywhere in Fiji and our experts tell us it would not kill off the virus. But it would kill jobs and it could kill our country's future. Instead, we have given you the ability to shop for food, withdraw money, access medicine, go to work and sustain your livelihoods to provide for your families — but that freedom comes with responsibility because every Fijian deserves to go about their business with an assurance of safety – to interact, to transact, to shop, and to work under COVID safe protocols.
"That is why we are asking that all employers and employees in Fiji — including civil servants — be vaccinated as a condition of their employment. From the view of your government, asking civil servants to be vaccinated falls well in line with the duty of care we owe you and every Fijian. We in government strive to be best possible servants of the people, and we cannot serve the people if we are sick or if we can be carriers of a deadly virus," said Bainimarama.
He said under the Fijian Constitution, guidelines can be issued by government to which all civil servants must adhere.
"Civil servants who have not received their first dose of the vaccine must go on leave from Monday next week. They cannot come back to work until they receive at least the first dose of the vaccine. That must be done by 15 August 2021, after which they may return to work so long as they go on to be fully vaccinated by 01 November 2021.
"If they do not adhere to these guidelines they will be dismissed from work," Bainimarama emphasised.
He said the end of this ordeal will come.
"Until it does, we must remain vigilant until more of us are protected. Get vaccinated. Wear your mask. Maintain physical distance from others. Install the careFIJI app we've developed to protect you. And adhere to the instructions from Dr James Fong and his health teams.
"These simple measures slow the spread and prevent more cases of severe disease and death, and they should all be obvious to everyone by now. We're going to every length imaginable to get the word out. We've published this guidance everywhere we can –– on billboards, on radio, on social media, and on television –– in all three languages. And we've been doing so for more than one year.
"We even have teams of people –– including the RFMF –going around with hailers to communities telling adults to wear masks, to not share cigarettes or bowls of grog, and respect the rules we have in place. These are not children we're trying to reach, these are full-grown adults. Still, some will not listen. Because common sense is not so common for some, new penalties will take effect from next week:
– If you're one of the fools mucking about in public without a mask, you will receive a fine on the spot.
– If you do not comply with the curfew hours, you will be fined.
– If patrons of your business are not wearing a mask, they will be fined and so will your business.
– If you hold any social gathering; if you play contact sports; if you violate a home quarantine or isolation order; if you consume kava or liquor with others outside of your home; or if you leave a containment area, you will be fined," said Bainimarama.
He said the Police, designated staff of the Ministry of Commerce, Trade, Tourism and Transport and the Fijian Competition and Consumer Commission will be given powers to enforce these new penalties.
"You'll see there that these on the spot fines range from $20(US$10) for individuals and up to $4,000(US$2,000) to companies depending on the severity of the offence. We're serving fines so that we don't crowd our cells with offenders.
"We hope these fines serve as a deterrence. We don't want to lock people up and we don't want your money. We want you to follow the rules. This is a matter of saving lives — and we will not hesitate to punish the reckless rule-breakers whose actions put the rest of the nation at risk," said PM Bainimarama.
SOURCE: FIJI TIMES/PACNEWS