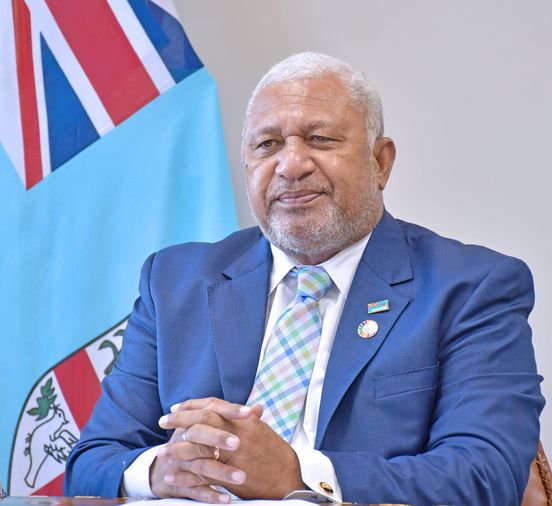 Pacific Island Leaders and the United Kingdom convened a High Level Climate Dialogue Thursday to discuss the priorities ahead of COP26 to be held in Glasgow in November this year.
The meeting led by the Secretary of State and COP26 President Alok Sharma provided an opportunity to update Pacific Leaders on the progress of key issues, and hearing first hand from leaders, their priorities in the build up to COP26 – which is expected to deliver progressive outcomes for a sustainable future. The event recognised the important role that Pacific Island Countries (PICs) have in delivering progressive climate action for COP26.
Prime Minister and Chair of the Pacific Small Island Developing States (PSIDS) Voreqe Bainimarama joined the leaders in calling for collective and urgent action to confront climate change.
PM Bainimarama said the global average temperature is now at 1.2 degrees Celsius higher than pre-industrial levels and we are already seeing devastating impacts across the world with three major tropical cyclones having devastated Pacific Small Island Developing States in a span of just 1 year.
He said the commitments made at the recent Biden Summit, if fulfilled, will help reduce the gap between current Nationally Determined Contributions (NDC) and a 1.5 degree pathway by approximately 14%.
"But that is not enough. High-emitting countries, particularly from the G20, must commit to greater decarbonisation targets now. Only 40% of countries that are party to the Paris Agreement have submitted their updated NDCs, and the rest continue to kick the can down the road with vague promises and empty commitments. However, I must commend the United Kingdom for its commitment to embed into law its carbon-reduction target of 78% below 1990 levels by 2035. You are leading by example, and other developed nations must follow suit. I hope you will continue to press them in the G7, the G20 and your bilateral discussions."
Prime Minister Bainimarama said COP26 must produce a dramatic change in global climate ambitions and set clear pathways for rapid emission-peak, preferably by 2025; the only realistic chance to achieve net-zero global emissions by 2050.
Further adding that Fiji does not ask any nation to do what we are unwilling to do and we are committing to net-zero decarbonisation from multiple sectors.
Prime Minister reiterated that access to sufficient and affordable climate finance continues to lag far behind the needs of Pacific Small Island Development States.
"We commend the G7's recognition in the Carbis Bay Summit Communique that Developed Countries must increase international public climate finance contributions, particularly to adaptation.
"COP26 must not only expedite this commitment, it should also establish a clear pathway to setting a new quantified goal on climate finance for 2025 and beyond. As COVID-19 continues to cause economic havoc and overwhelm health systems in the Pacific, our development partners must significantly reduce debt as an instrument of climate finance. Piling on more debt is not the answer. The better approach is to unlock private-sector finance through grant-based or highly concessional de-risking funds."
Prime Minister Bainimarama commended the work of the COP26 Presidency in establishing the Santiago Network and hoped that it can address substantive financing issues.
"Finally, reaching an agreement on Article 6 is critical for Pacific Small Island Developing States because a 5% share of proceeds to adaptation efforts will enable a steady stream of finance for at least the Adaptation Fund. A landmark decision on Oceans is also expected at COP26 that does justice to the Oceans pathway championed by Fiji at COP23. We thank the COP26 Presidency and the COP25 Presidency of Chile for helping shape an entry point for the Oceans agenda into the UNFCCC process."
Reaffirming Fiji's support, Prime Minister Bainimarama said that with less than 4 months remaining until COP26, Fiji looks to the UK COP26 Presidency with great optimism.
"As a former COP President, I understand the weight of responsibility on your shoulders and stand ready to assist wherever and whenever needed."
Leaders from across the Pacific including Fiji, Niue, Samoa, Cook Islands, Palau, Papua New Guinea, Solomon Islands, Vanuatu, Federated States of Micronesia, Kiribati, Nauru, Republic of Marshall Islands, Tonga and Tuvalu participated in this Pacific-UK High Level Climate Dialogue.
SOURCE: FIJI GOVT/PACNEWS