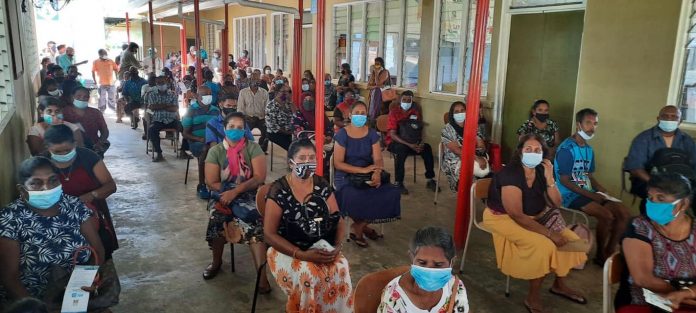 Fiji has reported 352 new positive COVID-19 cases and three deaths Monday.
Ministry of Health and Medical Services permanent secretary Dr James Fong said the first COVID-19 death was a 54-year-old man from Naikurukuru, Lami.
He said the man was declared dead on arrival by the attending medical officer at the CWM Hospital Emergency department.
"This means that he either died at home or on the way to the hospital. His family reported that the individual had been unwell for at least a week with fever, headache and generalised weakness. He was not vaccinated," Dr Fong said.
He said the second COVID-19 death was a 62-year-old woman from Davuilevu who died at home.
Dr Fong said the woman's family reported that she had fever, weakness and a reduced appetite for at least three days. The woman was not vaccinated.
And the third COVID-19 death is a 60-year-old woman from Vatuwaqa who presented to the FEMAT field hospital in severe respiratory distress and died on the same day. She was also not vaccinated.
"There have been two more deaths of COVID-19 positive patients.
"However, these two deaths have been classified as non-COVID deaths by doctors as their deaths have been determined to be caused by pre-existing medical conditions."
"There have now been 33 deaths due to COVID-19 in Fiji, with 31 of these deaths during the outbreak that started in April this year. We also have recorded 15 COVID-19 positive patients who died from the serious medical conditions that they had before they contracted COVID-19.
"There have been 78 new recoveries, which means that there are now 5,178 active cases in isolation. There have been 6,443 cases during the outbreak that started in April 2021. We have recorded a total of 6,513 cases in Fiji since the first case was reported in March 2020, with 1287 recoveries," said Dr Fong
He said the 7-day average of new cases per day has increased to 383 cases per day or 433 cases per million population per day.
"As expected, with the increasing cases numbers we are also seeing increasing numbers of people with severe disease, and more deaths in the Suva-Nausori containment zone.
"It remains a serious concern that some people with severe disease come to a medical facility only in the late stages of their illness. And we are still sadly seeing people with severe disease die at home or on the way to hospital, before our medical teams have a chance to administer what could potentially be life saving treatment," Dr Fong emphasised.
Meanwhile, Dr Fong said the Ministry of Health has not received the Sinopharm COVID-19 vaccine.
He made the comments in response to questions on whether the ministry was also administering Sinopharm.
"We have not received Sinopharm," Dr Fong said.
"We have enough committed by New Zealand and Australia for AstraZeneca."
In an earlier statement, Dr Fong had said experiences in Fiji and worldwide showed that COVID-19 vaccines in use, including the AstraZeneca vaccine administered to people in Fiji, were effective and safe.
"We have more than a century of experience with vaccines and we can thank them for eradicating smallpox and preventing diseases like polio and measles, whose victims are largely children.
"On the other hand, illness from the coronavirus is not rare, and the consequences can be fatal. The vaccine helps to protect against severe disease."
"To-date, 318, 830 adults in Fiji have received their first dose of the vaccine and 52,592 have received their second doses. This means that 54 % of the target population has received at least one dose and 9.0 % are now fully vaccinated nationwide," said Dr Fong.
SOURCE: FIJI TIMES/PACNEWS