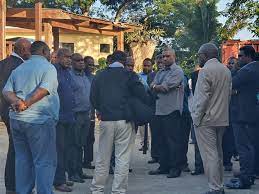 Several MPs have defected from Vanuatu's embattled government Monday in parliament.
The house sat following a Supreme Court ruling which confirmed a declaration of vacancies in most of the government member's seats in parliament.
Friday's ruling upheld a decision by the former Speaker of Parliament to expel 19 MPs including Prime Minister Bob Loughman from parliament.
A stay order on the court ruling has been granted while the government appeals, pending the outcome of which the MPs remain as MPs.
When the 52-seat parliament convened Monday, four government MPs joined the opposition, including the former Speaker, Gracia Shadrack.
It gives the Ralph Regenvanu-led opposition 22 MPs and solidifies prospects for a change of government if the Loughman coalition's appeal fails.
Additionally, the opposition has filed a motion of no-confidence in Loughman. It's unclear when the motion might be tabled for debate in parliament.
Monday MPs pressed on with legislative business, passing the Cybercrime Act after years of incubation.
Parliament was adjourned until Tuesday next week.
It is expected that the government's appeal against the Supreme Court ruling will be heard by next week.
Dr Tess Newton Cain, Project Leader for the Griffith Asia Institute's Pacific Hub said the situation is unprecedented because if the appeal fails, Vanuatu could have 19 by-elections.
"If we do go to an appeal that will be heard very soon…the government side will be taking its legal advice. It will be very interesting to see what grounds they put forward," she said.
Lawyer Nigel Morrison who represented the former Speaker, Gracia Shadrack, said "the court found that their application was, to use the court's words, 'absurd'".
Vanuatu's Opposition Leader, Ralph Regenvanu, told the ABC that "it's the right outcome because it shows that we all have to follow the laws".
"It doesn't matter who you are. You may be a prime minister, you may be deputy prime minister, you may be a minister, a member of parliament, but the law applies to you equally as it does to the ordinary person on the street," he said.
But Regenvanu, who agreed it was "possible" he might be the country's next prime minister if elected by the remaining MPs, said that Friday's ruling hadn't created a political crisis.
"I don't think it's even a constitutional or political crisis. It's simply 19 members of parliament who didn't turn up three consecutive sittings and therefore lost their seats," he said.
SOURCE:RNZ PACIFIC/PACNEWS