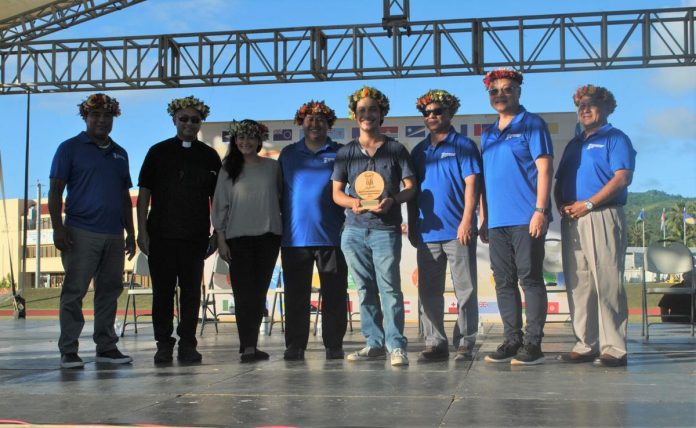 Kadi Camacho's sleek and creative design was named the winner of the Pacific Mini Games logo competition.
Camacho was honoured by CNMI and sports officials during the launch ceremony of the 2022 Pacific Mini Games at the Oleai Sports Complex on Thursday.
In his remarks, he said his logo depicts a latte stone, a mwar and three individuals. The mwar has 11 flowers to represent the 11th Pacific Mini Games. The color red symbolizes the CNMI's iconic flame tree flowers while the colors blue, yellow and green highlight the diversity and unity of the participating islands in the regional sports event.
The logo also depicts a third individual who is reaching upwards to symbolize the athlete's aim to achieve excellence.
This individual's body outlines the shape of the Proa, the traditional Chamorro canoe which symbolizes the NMI's maritime heritage.
In addition, the individual's body has 14 white circles, symbolizing the 14 islands of the Northern Marianas.
Camacho said his logo also shows that next year's games "are supported by international collaboration as indicated by the purple wave which is the Pacific Games logo. The ocean and waves connect the various Pacific islands."..
SOURCE: MARIANAS VARIETY/PACNEWS