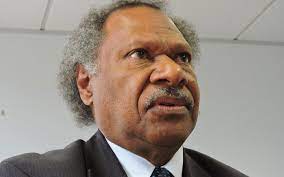 here have been astounding developments in a controversial legal case in Vanuatu.
The case revolves around the move by the then speaker, Gracia Shadrack, to deem the seats of 19 government MPs vacant after they had been absent from parliament on three consecutive days.
Stephanie Mahuk and Nigel Morrison, the lawyers for the Speaker's Office, had been acting for Mr Shadrack in the case, but earlier this week he surprisingly resigned from the speaker role, and the government replaced him with Seule Simeon.
Simeon's office then sought to end the legal case and efforts were made to have all the parties sign a consent form, but Mahuk andr Morrison, refused.
The consent would have ended the trial, left the MPs in place and created precedent precluding the Speaker from ruling on important parliamentary matters.
When Justice Saksak learned of what happened he accused the MPs' lawyer Robert Sugden of coming within a hair's breadth of attempting to pervert the course of justice, and refused to allow Morrison and Mahuk to cease to act.
Justice Saksak is now expected to rule on the vacationing of the seats later today.
Radio New Zealand Pacific correspondent has reported if the 19 MPs lose their seats the remaining 13 government MPs may resign to force a new election.
SOURCE: RNZ PACIFIC/PACNEWS