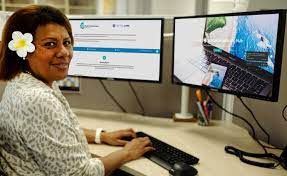 COVID-19 has not only decimated Pacific Island economies, it has also catapulted to the fore the urgent need to move towards digital economies and the importance of e-commerce if we are to be on par with the rest of the world.
A report released by UNCTAD early May 2021 stated the "dramatic rise in e-commerce amid movement restrictions induced by COVID-19 increased online retail sales' share of total retail sales from 16 percent to 19 per cent in 2020." It also highlighted that global e-commerce sales jumped to US$26.7 trillion in 2019, up four percent from 2018.
Shamika Sirimanne, UNCTAD's director of technology and logistics said the "statistics show the growing importance of online activities. They also point to the need for countries, especially developing ones, to have such information as they rebuild their economies in the wake of the COVID-19 pandemic."
In the Pacific, there have been work towards e-commerce, but no country has advanced as much as Vanuatu, which has implemented its Electronic Single Window system- basically a one-stop shop for border control agencies and traders.
Simply, the single window system aims to address a number of issues- digitalise all border clearances procedures, improve risk management for border agencies, enhance data collection and overall improve trading.
"The overall objective of the Vanuatu Electronic Single Window project is to expand Vanuatu's GDP through increased exports," says Manager Electronic Single Window Project, Stanley Trief. "The project outcome is to increase Vanuatu's competitiveness through the reduction of cost and time of trading across its borders."
In fact, Vanuatu is proud of many firsts- world's first Passenger Module created in the Automated System for Customs Data (ASYCUDA), first direct online payment between a bank and Customs in the Pacific, first ever Sanitary and Phytosanitary (SPS) module for Biosecurity in ASYCUDA. Vanuatu is the first Pacific Island nation to automate Biosecurity border control processing in ASYCUDA.
The benefits
By the time the Vanuatu Government restricted movements due to COVID-19 in March last year, businesses were already submitting and paying for import and export certificates, licenses and permits online.
"While we have digitalised the processes, we also ensure that all our exported and imported products have met all SPS requirements, including specific import requirements of the importing country as well as Vanuatu's standards. We need to ensure that we continue to protect Vanuatu's export markets abroad which is very vital to Vanuatu's economy when you consider commodities such as kava, copra, cocoa or beef," Trief said.
From March to December 2020, the single window system had 4,535 SPS applications lodged and processed online, collected over US$326,000 in fees, reduced paper usage by 85 percent. Physical trips by biosecurity officers for SPS submissions, follow-ups, and payments have also been reduced more than half.
In April this year, the Department of Energy came online, instantly reaping benefits for the organisation.
"With the department online, it means the administration work of the department in regulating the importation of appliances has been reduced, and it also ensures a more effective border control since the module will now link the Customs clearance process to the appliances import certificates," Trief added.
On 27 May, 2021 Vanuatu launched the Customs-Post Interface Project. Vanuatu was selected out of 22 LDC countries worldwide to pilot this initiative to link the ASYCUDA system to the Postal system, CDS.
In the next 12 months, Trief's team will work on the module to include Vanuatu posts. When implemented, it would mean faster clearances of parcel posts as physical inspections by Customs officers will be reduced.
"We would receive details of the parcel before it arrives in Vanuatu, which means we do not have to inspect every parcel. The current practice is to feel the parcel and guess or trust our instincts on the contents of the parcel," Trief says.
"We would also be able to police counterfeits and confiscate them as well. We will be able to manage risks better but what is also important is that we would be able to capture data or better statistics on parcel posts.
"Parcel posts have increased during this pandemic as people are doing online shopping more and they are also important for micro and small enterprises."
E-Commerce in the Region
For the rest of the region, the Oceania Customs Organisation has been working with Customs administrations to advance their e-commerce effects and recently organised its first Virtual Workshop on Digital Customs & Ecommerce. The workshop was to support members in the preparation of a coherent application and implementation of automation, single window and processes to facilitate e-commerce.
"While e-commerce had been a long-term target of Customs administrations, the COVID-19 pandemic has made it more urgent to have automated processes," OCO Head of Secretariat, Richard Brennan said. He further added that, "managing the health crisis during this pandemic is important but it is equally important to manage the economic crisis, for Customs administrations this means ensuring that continuity of trans- border trading."
Brennan says there are still significant challenges in the region on e-commerce with regards to regulatory frameworks and the application of risk management and technologies to facilitate small value consignments. The workshop provided the opportunity to discuss regional approaches to assisting members in this regard.
"E-commerce has real potential to narrow distances and trade costs, and to promote diversification of Pacific economies. COVID-19 has highlighted the significance of growing cross-border e-commerce and the need for Customs administrations in the Pacific to adequately prepare to facilitate and address issues stemming from e-commerce transactions but at the same time ensure safety and security for all" Brennan said.
The OCO is also contributing to the work on the Pacific E-Commerce strategy led by the Pacific Islands Forum Secretariat.
The current implementation of ASYCUDA World for six Pacific Island countries through the PACER Plus funding is another important stepping stone for simplification and facilitation of trade at the national level and also towards regional harmonization of customs procedures.
The OCO Secretariat continues to encourage south-south cooperation through the sharing of best practices to inspire Pacific Island countries to address gaps that would be difficult to tackle individually and find regional solutions that can be adopted and replicated to other customs administrations.
SOURCE: OCO/PACNEWS