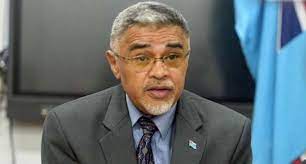 Fiji has recorded an alarmingly high 83 new cases on Sunday, its highest daily figure yet.
Ministry of Health and Medical Services permanent secretary Dr James Fong said the majority of those cases were from known clusters or areas already under containment or lockdown protocols.
Those areas include Waila, CWM Hospital, IMT-HQ, IMT Warehouse, Caubati, Navy, Samabula, Shop N Save Supermarket, Nawaka Nadi, and Navosai.
Dr Fong said new clusters had been reported in Naitasiri.
The new cases reported in Naitasiri are from the following localities:
*2 cases from Matasinasau Village, one of whom was recently discharged from CWM and one case who had moved to Tavua Village by the time the results were known
* 1 case from Laselevu
*1 case in the Savusavu settlement; and
*1 case in Vuisiga Village, Vunidawa.
"The Naitasiri Containment Response team have also had to stand down due to exposure to a positive case," Dr Fong said.
He said one case had been confirmed in Tavua in a traveller who recently arrived from Lautoka.
"The cluster of greatest concern is at CWM Hospital where our medical teams are going to great lengths to provide critical treatment without exposing themselves and their patients to the virus.
"In Lautoka, we cordoned off the hospital as a COVID-care facility and deployed a field hospital to handle non-COVID care. We will be replicating the success of that model at CWM Hospital.
"The CWM Hospital will become a full-time COVID-care facility with tightly controlled movement into the hospital.
"Access to Laboratory, Maternity and Paediatric Units will be through escalated screening protocols and package decontamination protocols. A field hospital for the treatment of non-COVID patients in the vicinity of the CWM Hospital is being established in conjunction with our partners from Australia.
"In total, 11 of the 83 cases confirmed today are of unknown origin and will be classified as cases of community transmission until proven otherwise"
Dr Fong says the high number of cases signals a much larger proportion of cases in the community.
He said they expected more days of high numbers of confirmed cases.
"We sadly expect more hospitalisations as more severe cases of the disease develop," Dr Fong said.
"But thanks to the massive step-up in the pace of our testing, we can continue to fight this virus in a targeted way – a way that allows Fijians to access essential services and allows the economy to function as normally and safely as possible.
"Fiji is now testing at the highest rate in Oceania.
"We have never been more equipped than today to confront an outbreak, and we should take faith in our constantly strengthening capacity against this invisible enemy.
"But we know the front of this battle extends everywhere and to everyone. It will ultimately be won by all of us through the decisions we all make every day," he said.
Meanwhile, Fijian Prime Minister Voreqe Bainimarama says nothing has changed since last week when he had said that he will not be bullied by fear.
He said he would continue to stand firm and confident that "I will not be denied my salvation from this crisis".
In his national announcement delivered on television, Bainimarama said Fijians would not be denied their salvation, and will the country not be denied its salvation from the COVID-19 pandemic.
"I say this because we – Fiji – have mastered difficulties before. We mastered those difficulties and we won opportunities," Bainimarama said.
"But as always, we continue to hear the voice of doubt.
"We continue to see the emergence of false prophets who are bent on stopping our progress.
"Some point fingers at our frontliners, at our disciplined Forces.
"Some have questioned our decision to lift movements around Fiji, even though they will all be done under very strict COVID-safe protocols.
"Some have questioned the efficacy of the vaccine.
"They see difficulties in every opportunity to set us free."
However, Bainimarama said he saw opportunity in every difficulty.
"Opportunity to protect you. Opportunity to safeguard you. Opportunity to make you flourish under these difficult circumstances," he said.
SOURCE: FIJI TIMES/PACNEWS