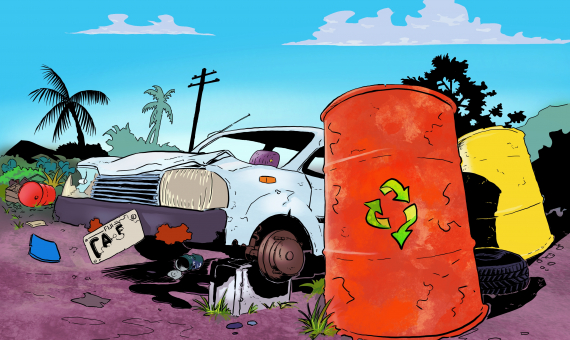 Solutions for sustainable waste actions in used oil management, marine debris and disaster wastes will be in place across the Pacific islands through a special project that began in 2020.
The Committing to Sustainable Waste Actions in the Pacific Project, also known as SWAP, held its first steering committee in April, bringing seven Pacific island countries together to determine future actions.
French Polynesia, New Caledonia, Samoa, Solomon Islands, Tonga, Vanuatu, and Wallis and Futuna met with the Agence Française de Développement (AFD) and the Secretariat of the Pacific Regional Environment Programme (SPREP). Together, the meeting endorsed the Terms of Reference of the steering committee as well as the project implementation arrangements, and monitoring and reporting requirements.
The 2020 Annual Report, the 2021 Annual Work Plan, Financial Plan and Communication Plan was endorsed in principle pending final approval by AFD. It was noted the challenge for 2021 will be to successfully achieve the project objectives in this current COVID-19 pandemic by adapting the way work is done.
"COVID-19 has impacted so many across our globe, while we have tried to adapt to a COVID-19 world, it has not slowed the waste challenges we face across our region. Through targeted work such as that through SWAP, we continue onwards to make a difference," said Mr Seumaloisalafai Afelē Faiilagi, Assistant Chief Executive Officer of the Ministry of Natural Resources of Samoa, Chair of the SWAP Steering Committee Meeting.
"Our very first SWAP Steering Committee Meeting was a success in that as target audiences of this project, we endorsed the work plans and budgets. We were also able to come together and talk on the different needs and lessons learnt to improve waste management within our countries."
Wallis and Futuna indicated the desire to further improve their current Container Deposit Scheme (CDS) using successful tools through the SWAP Project to enhance partnership with the private sector.
While the private sector is providing interventions on the growing issues of used oil in French Polynesia, Samoa, Tonga, and Vanuatu, the country partners believe that this intervention can be more beneficial if upscaled at the national level backed up by a robust Used Oil Management Plan.
Solomon Islands also indicated used oil stockpiles in the country which needs to be contained and addressed. It also raised the issue of illegal dumping on the streets of Honiara City which needed attention.
Tonga also shared the government's intention to ban plastics with the expectation that regional projects may be able to assist on this move. Vanuatu proposes to work with a designated department to tackle plastic issues especially during beach clean-ups and thanked the other regional projects who have provided support to their disaster waste management issues.
"Our key focus is to bring about a successful project, resulting in positive outcomes on the ground," said Nolwenn BODO, Public Sector Head/Pacific Regional Cooperation of AFD.
"As such we are open to redesigning SWAP as needed to capitalise on the countries' capacities to keep the project moving despite travel restrictions. We also want to see the work of SWAP being empowered and encouraged by and for Pacific youth."
Miss BODO looks forward to the work ahead through SWAP, helping to build a stronger foundation for future generations.
The SWAP Project team based at SPREP Will now work on amending the project design as requested.
"With the uncertainties, the travel restrictions have caused around the globe, many have been innovative and creative in their thinking," Anthony Talouli, the Acting Waste Management and Pollution Control Director at SPREP.
"Over the past year, we have adapted and learnt new ways to ensure our work continues in this COVID-19 world. SPREP is experienced in applying virtual platforms to continue developing the capacities of our Pacific islands for a sustainable environment. We will continue this for SWAP."
The first SWAP steering committee was held virtually on 29 April, 2021.
SWAP aims to improve sanitation, environmental, social and economic conditions in Pacific Island Countries and Territories through proper waste management. The seven SWAP Pacific islands are Fiji, French Polynesia, Samoa, Solomon Islands, Tonga, Vanuatu, and Wallis and Futuna. New Caledonia will also receive technical support through SWAP.
The Committing to Sustainable Waste Actions in the Pacific (SWAP) Project is funded by the Agence Française de Développement (AFD) https://www.afd.fr/ and executed by the Secretariat of the Pacific Regional Environment Programme (SPREP) https://www.sprep.org/
Agence Française de Développement (AFD) implements France's policy on international development and solidarity. Through its financing of NGOs and the public sector, as well as its research and publications, AFD supports and accelerates transitions towards a fairer, more resilient world. It also provides training in sustainable development (at AFD Campus) and other awareness-raising activities in France.
With our partners, we are building shared solutions with and for the people of the Global South. Our teams are at work on more than 4,000 projects in the field, in the French Overseas Departments and Territories, in 115 countries and regions in crisis. We strive to protect global public goods – promoting a stable climate, biodiversity and peace, as well as gender equality, education and healthcare. In this way, we contribute to the commitment of France and the French people to achieve the Sustainable Development Goals (SDGs). Towards a world in common.
For further information please contact Ms Julie Pillet, SWAP Coordinator at juliep@sprep.org
SOURCE: SPREP/PACNEWS