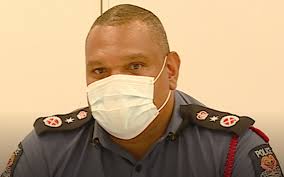 Term one of the school year has been cut short, and a four-week holiday begins on Monday, as the Papua New Guinea Government implements a plan to arrest the current surge in Covid-19 cases.
National Pandemic Response Controller David Manning said the total Covid-19 cases as of noon Tuesday was 2,479, including 31 deaths.
There were 128 new cases reported in a 24-hour period from around the country indicating an intense community transmission even in rural areas which was a concern for the National Control Centre.
Term one was supposed to end on April 9 followed by a one-week holiday from 12 to 16 April.
But the term one school break will now be from 22 March to 16 April .
Manning said he had talked to Education secretary Dr Uke Kombra about the revised school break.
"The proposal is to bring the shutdown of schools forward to March 22," he said.
"He (Dr Kombra) has indicated that will be very much the case.
"We have given him (time) to see how best he can manage that going into next week."
He said the national isolation strategy to be implemented from Monday was to make sure the Covid-19 community transmission was addressed with relative ease and minimum inconvenience to everyone.
Manning said the immediate concern was to arrest the current surge and isolation was the new measure being proposed.
More details will be released today. The isolation strategy will be in two stages.
Stage one is the four weeks starting Monday. Stage two is the three weeks after that.
"In the first four weeks, you will find specific aggressive interventions on how best we can arrest the Covid-19 surges not only in the city but in provinces currently experiencing surges in Covid-19 cases," he said.
"You will expect some very hard control measures. We are also looking at stepping up on testing in the first four weeks."
For the provinces, "we are looking at isolating provinces from each other to allow our surveillance team to (identify) the hot spots in those provinces".
The isolation strategy will affect domestic travel. "Cargo by air and sea will continue but passengers will be sorted into "five categories of essential travel".
There is a proposal to call out the disciplined forces to work with the council of churches and community health workers in implementing the national isolation strategy.
He warned the people to be prepared for the new measures.
"Between now and then will require some time on how we develop our communication strategy and the enforcement of the new measures," he said.
SOURCE: THE NATIONAL/PACNEWS