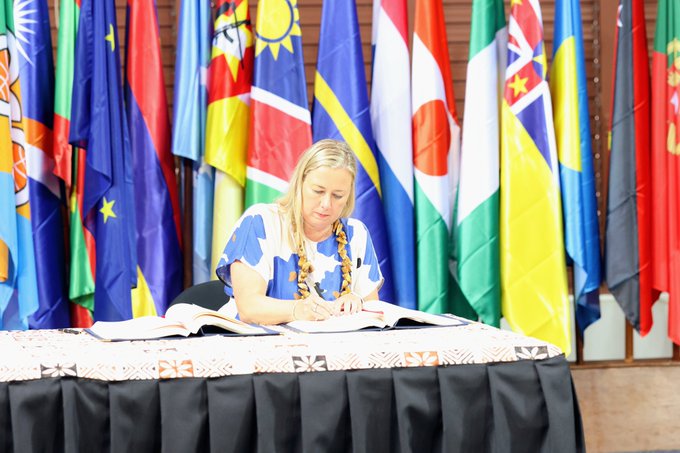 -Countries that don't sign the Samoa Agreement by the end of December face the prospect of missing out on accessing funding from the European Investment Bank.
This is one of two potential ramifications facing the members of the African, Caribbean and Pacific States (OACPS) who chose not to put pen to paper – after 71 out of the 79 OACPS countries signed the new Partnership Agreement dubbed 'Samoa Agreement' in a historic signing ceremony in Apia, Samoa on Wednesday.
The second potential consequence is the inability of the OACPS member state to attend the ACP-EU Joint Parliamentary Assembly in February next year.
The EU Commissioner for International Partnerships, Jutta Urpilainen discussed the ramifications in response to questions from the media following the signing of the new ACP-EU Partnership Agreement.
While emphasising that the signing of the Samoa Agreement is important and historic and creates opportunities and a structure for the EU and its ACP member states, Urpilainen said the negotiation process for the historic agreement was a long and difficult one.
"So now we [are] finally at the stage to sign the agreement and we were really hoping that all ACP countries could sign," said Urpilainen. "But in the end, it is the sovereign decision of every country. However, we also have to understand the consequences if they decide not to sign the agreement.
"If countries have decided not to sign the agreement by the end of this year, there are concrete impacts or consequences. Those countries will not be able to attend our Joint-Parliament Assembly which is going to take place in February in Angola.
"The second consequence is that the EU Investment Bank cannot operate in those countries anymore. Currently, the Cotonou agreement has the legal basis for the EU Investment Bank and from the 1st of January onwards, it will be the Samoa Agreement.
"That is why it is important to discuss with those countries which have not yet signed, to sign. But the decision is up to them."
The Samoa Agreement will provisionally enter into force on 01 January 2024, replacing the Cotonou Agreement, which has been governing the ACP-EU relations since 2000 and which will expire at the end of 2023.
The European Parliament has continued to call for the entry into force of the new agreement and this can be achieved by integrating a strengthened parliamentary dimension with the creation of three new regional assemblies and with the maintenance of the JPA ACP-EU Joint Parliamentary Assembly (APP ACP-EU Joint Parliamentary Assembly). These three new assemblies will initiate the implementation of the new agreement with constitutive meetings to take place from 18–21 February 2024 in Angola.
When discussing financing under the new Partnership Agreement, Urpilainen said the EU is committed to financing the joint institutions under this partnership and agreement. However, she also urged and encouraged all the ACP member states to do their part and pay their membership fees.
SOURCE: SAMOA OBSERVER/PACNEWS