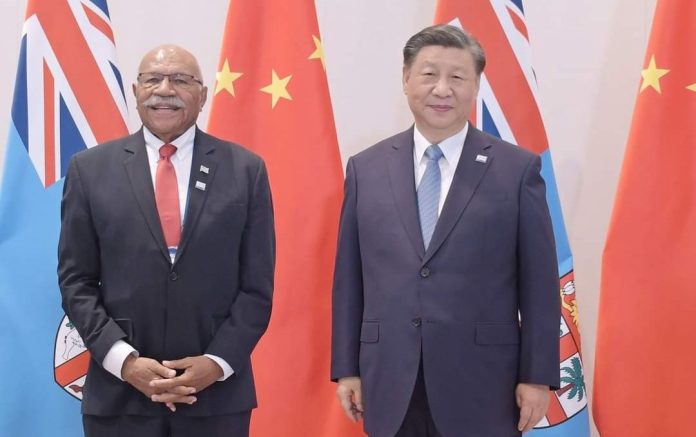 In a historic meeting on the margins of the APEC Leaders' Summit today, Prime Minister Sitiveni Rabuka and the President of the People's Republic of China, Xi Jinping discussed Fiji and China's longstanding relations.
This marked Prime Minister Rabuka's inaugural meeting with President Xi.
Prime Minister Rabuka extended his congratulations on President Xi's recent electoral triumph; a testament, he said of "the unwavering confidence and support of the Chinese people in their visionary leader".
Key deliberations during the meeting centered around China's pivotal global development initiatives, with a specific focus on the Belt and Road Initiative (BRI).
The BRI, designed to foster economic connectivity, trade, and cultural exchange, particularly through infrastructure development, resonated with Fiji's own developmental objectives, as highlighted by Prime Minister Rabuka.
Prime Minister Rabuka said the BRI aligned with Fiji's agenda, emphasising the shared goals of policy coordination, infrastructure connectivity, trade facilitation, financial integration, and the unification of people from small island states like Fiji.
In addition to endorsing the Belt and Road Initiative, Prime Minister Rabuka conveyed Fiji's steadfast support for China's Global Civilisation Initiative, initiated in 2022.
He commended the initiative's potential to usher in a new era of modernisation and development, granting nations control over their futures.
In the face of global uncertainties and geopolitical pressures, Prime Minister Rabuka expressed Fiji's solidarity with China's Global Security Initiative (GSI), aimed at constructing a diplomatic and security architecture through multilateral treaties, alliances, and institutions.
This commitment aligns with Prime Minister Rabuka's advocacy for the "Pacific as a Zone of Peace," mirroring President Jinping's vision for global security.
Reaffirming Fiji's unwavering partnership with China, Prime Minister Rabuka assured continued allegiance to the One-China Principle, a cornerstone of their diplomatic relations.
He emphasised Fiji and China's strong historical ties, underpinned by shared aspirations and common interests, fostering a comprehensive strategic partnership rooted in mutual trust and respect.
Prime Minister Rabuka highlighted the multifaceted collaboration between Fiji and China, spanning people-to-people relations, capacity-building, and cooperation across diverse sectors such as agriculture, defence and security, education, health, trade and investment, poverty reduction, infrastructure, and climate change.
The discussion delved into practical matters, including Fiji's concessional loan with China, a joint shipyard venture to modernise Fiji's port facilities, and ongoing talks regarding the upgrade and tarsealing of approximately 80km of roads in Vanua Levu.
As the Minister responsible for Climate Change, Prime Minister Rabuka expressed Fiji's interest in collaborating with China on recycling initiatives, recognising the potential for economic incentives derived from China's experience in industrial recycling processes.
In response, President Xi conveyed his sincere appreciation for the historic meeting, affirming China's support for Fiji's development initiatives and expressing interest in funding major capital projects.
President Xi extended an invitation to Prime Minister Rabuka to visit China, signaling a continued strengthening of diplomatic ties between the two nations.
SOURCE: FIJI GOVT/PACNEWS