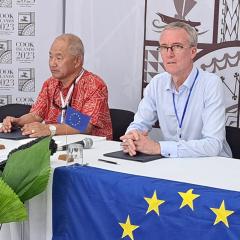 The European Union signed three Financing Agreements worth €21.8 million (US$23.2 million) with Pacific Island nations.
These agreements mark the EU's and its partners ongoing commitment to combat climate change and promote essential infrastructure development in the fields of water, sanitation, and hygiene. The primary objective of this budget support is to foster climate-resilient communities and ensure safe and healthy living conditions for all.
Commissioner for International Partnerships, Jutta Urpilainen, says: "The European Union has been a steady and reliable partner for the Pacific Islands for many years. These agreements reaffirm the excellent cooperation between us and will contribute to improving the lives of local people. They deliver stronger resilience for the societies through Global Gateway, which is crucial for these partners, who are facing multiple challenges, including the climate change in the frontline."
The signatures between the European Commission and Fiji, Micronesia and the Marshall Islands took place in the framework of the Pacific Islands Forum (PIF) Leaders' Meeting in the Cook Islands.
Koen Doens, Director General at the European Commission's Directorate General for International Partnerships signed on behalf of the European Commission.
The support is part of Global Gateway, the EU's positive offer to deliver sustainable and trusted connections with partner countries.
The EU and the Government of Fiji signed a financing agreement for €12.8 million (US$13.3 million) for the 'Time to Act! Towards Implementing the Climate Change Act' programme. The programme will assist the Government of Fiji to deploy the ambitious Climate Change Act, adopted two years ago, through budget support and technical assistance.
With the Government of the Republic of the Marshall Islands (RMI) a Financing Agreement for €6 million (US$6.4 million) in the Water, Sanitation and Hygiene (WASH) Sector will help local people to improve rainwater harvesting and storage structures, will help prevent pollution and will strengthen the technical capacities of national and sub national institutions and key stakeholders.
The EU and the Government of the Federated States of Micronesia (FSM) also signed a Financing Agreement for €3 million (US$3.2 million) to invest in the Water, Sanitation and Hygiene (WASH) Sector. A package of targeted technical assistance will support the government in developing policies, institutional reforms, regulatory changes, and financial measures. The overarching aim is to drive progress towards the Sustainable Development Goal 6 (Ensure access to water and sanitation for all), ensuring universal access to safe and resilient drinking water, sanitation, and hygiene.
Pacific Island countries are extremely vulnerable to climate change and natural hazards. Climate change is disrupting weather patterns, leading to extreme weather events, unpredictable water availability, exacerbating water scarcity and contaminating water supplies. Such impacts drastically effect the quantity and quality of water as well as having serious implications for public health. The European Union aims to support these countries in mitigating and adapting to the impact of climate change.
SOURCE: EU/PACNEWS