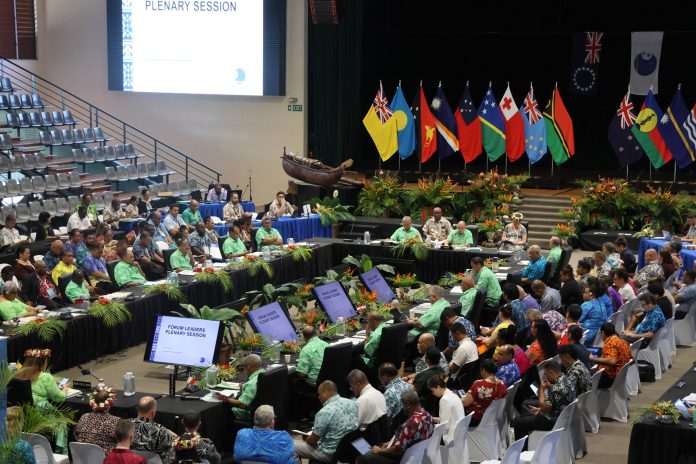 Forum Secretary General Henry Puna has called on Pacific leaders to use their retreat today in Aitutaki to have honest and frank conversations on the range of issues facing the region today.
The leaders will discuss climate change, gender, fisheries, nuclear issues, and trade among others.
Leaders also expected to have a talanoa on the controversial issue of appointing the next Secretary General that led to Nauru's President David Adeang to walkout from the Plenary Wednesday.
Addressing leaders at the 52nd Pacific Islands Forum Leaders Plenary in Rarotonga, Henry Puna said they have the time and the space to engage in and amongst themselves on issues of critical importance to our collective aspirations and development, as a Forum Family.
"Indeed, the format of the Forum Leaders Meeting this year, to convene both a plenary session as well as a retreat session, offers Leaders this very opportunity. With that in mind, I respectfully encourage you to use your retreat session to have honest and frank conversations on the range of issues facing the region today.
"As we all continue to witness on a daily basis, there are a multitude of opportunities and complexities before us as a region, but key to capitalising on these opportunities and overcoming shared complexities is our solidarity as a region.
In this regard, the 2050 strategy frames how and where we can best work together. Supported by the implementation plan that you will consider today, we are, as a Blue Pacific Continent, moving forward from a stronger collective position. The 2050 IP articulates our collective actions for the next 7 years, and I am pleased that the Forum Chair has taken it upon himself to identify key actions under the Pacific Partnership for Prosperity to drive at the political level,"Puna told leaders.
Forum Chair and Cook Islands Prime Minister Mark Brown acknowledged their willingness to reinstitute the Forum Leaders Plenary model of engagement this year.
"It allows us as Leaders the opportunity to consider and discuss regional issues that have been developed and come through regional processes, together with the key regional and senior officials who have contributed to its development.
"Tt allows us the time and space as political leaders to have deeper discussions on other pertinent issues within the privacy of our Leaders Retreat.
"I would hope that when we leave from Rarotonga at the end of this week, we will leave with a deeper appreciation and shared understanding of what it means when we, as a region, speak about the importance of and respect for "our voices, our choices and our pacific way." said PM Brown
He said the geo-strategic interest in the Pacific region may be at an all-time high, but it will not and should not dictate how they advance and progress the priorities that they have determined through the 2050 Strategy and its Implementation Plan.
"It is important therefore that we are united in our purpose and commitment towards our collective vision for a resilient pacific region of peace, harmony, security, social inclusion and prosperity that ensures all our peoples lead free, healthy and productive lives.
Added to this, I am deeply committed to ensuring that we work together effectively; whether as Leaders, regional agencies, or partners. To this end, how we review and reposition our region's architecture over time remains a critical agenda for everyone of us here today," said PM Brown.
SOURCE: PACNEWS