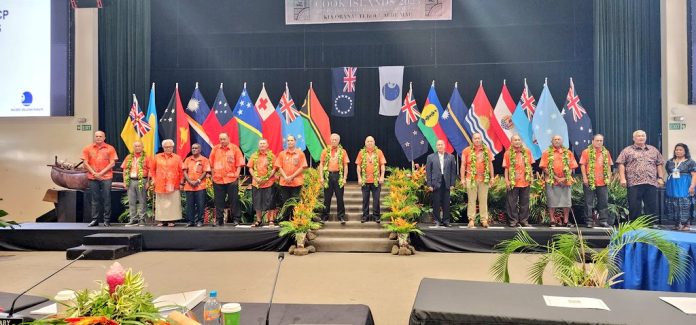 Pacific Islands Forum Chair and Cook Islands Prime Minister Mark Brown has told Pacific PACP leaders to maximise every opportunity in the international fora to discuss the impacts of climate change facing the region.
He said climate change remains a great security threat to many Pacific Islands.
Brown said the region is the focus of heightened geostrategic interest – and never has it been so high as it is today.
"And these new realities will require us to think differently, to be progressive, and to be front footed where we have not been in the past.
"A constantly evolving global order requires our PACP grouping to take a step back and consider a range of existing and emerging issues impacting the Blue Pacific. Climate change remains our single greatest security threat, and we should be using all opportunities and all fora to discuss the issue," said PM Brown.
He said over recent years their discussions have focused primarily on the arrangements for the new EU-OACPS Partnership Agreement or the Samoa Agreement.
"As we look forward to the signing of the Agreement next week, we do so with our collective ambition to drive our partnership agenda in a manner that best aligns to our needs under the 2050 Strategy Implementation Plan.
"The opportunity and challenge for PACP Members then is to consider our comparative advantage as a group to drive our collective aspirations.
"As countries that represent the majority of the independent Pacific Islands region, the so-called Blue Pacific Continent, we share common strategic interests and common strategic assets that are arguably at the heart of the world's interest in our region. The ocean, which we all share, is central to that," said PM Brown.
Forum Secretary General Henry Puna said PACP leaders are at the cusp of settling two instruments of regional significance to the Pacific – the 2050 Strategy Implementation Plan to be endorsed on Wednesday and the new EU-OACPS Samoa Agreement to be signed next week.
He said the 2050 Strategy sets out the Pacific long-term vision and strategic approach to work together as a collective to achieve this.
"Now, we have the 2050 implementation plan in place for your endorsement. This plan will consist of an initial timeframe to 2030 and will set out our short-term goals, outcomes, and regional actions. Added to this the Forum chair has also tabled the Pacific Partnerships for Prosperity initiative as a supplement to accelerate the 2050 Implementation Plan.
"The Samoa Agreement and in this regard, it is crucial that and other EU instruments such as the Neighbourhood Development and International Cooperation Instrument (NDICI), well align with the 2050 Strategy Implementation Plan, and our regional mechanisms," said Puna.
He said PACP Leaders will continue to play a critical role in ensuring that regional Partners align their cooperation frameworks, and activities, to the Forum enduring and shared priorities.
"Your Forum Secretariat, together with the CROP family, stands ready to support these partnerships. I encourage you to discuss these issues with your CROP representatives this week, as they prepare to move from Strategy to Implementation. Institutional arrangements and resourcing remain high on the agenda.
Puna also said the the upcoming Review of the Regional Architecture must provide clarity on the persistent challenges the region face.
"A constructive and transformational review will require genuine political will, and I call on you to champion this important work in the months ahead, particularly with regard to the future role of this PACP grouping.
"In this regard, it is worth considering that we are more than a grouping that convenes under our shared historical connection to Europe.
We are, in our own right, 15 Pacific Island Nations, with agency and power to determine our agenda; to deliver outcomes that reflect the priorities of the Pacific Islands and people we represent; and to offer better support to the pre-eminent Pacific Islands Forum," said Puna.
SOURCE: PACNEWS