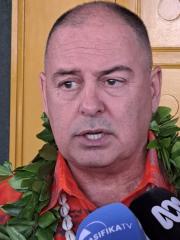 Australia will provide financial support for Pacific Leaders attending the United Nations Climate Change Conference (COP28) to begin later this month in Dubai.
Forum Chair and Cook Islands Prime Minister, Mark Brown made the revelation after the PACP Leaders Meeting Tuesday.
"I would like to acknowledge the support from Australia in supporting the Pacific Climate Champions for their attendance at COP28 along with the support of their staff to be able to support their leaders at this important event," PM Bown told journalists in Rarotonga.
Fijian Prime Minister Sitiveni Rabuka has been named the Oceans Nexus Champion, Cook Islands Prime Minister Mark Brown is the Global Stocktake Champion and Tongan Prime Minister Siaosi Sovaleni as the Climate Finance champion.
PM Brown said leaders also discussed concerns on the difficulties of Pacific nations vulnerable to the impacts of climate change accessing global climate finance.
"Certainly, this was a concern raised by some of our leaders access to climate financing and also to make it easier. There are also challenges for countries like the Cook Islands who have graduated to developed country status and can no longer access some of those financing mechanisms.
"So, a recognition that came out of the meeting of Smaller Island States (SIS) and the difficulty associated with accessing financing whether it's through the mechanism like the Samoa Agreement or whether through borrowings. These are challenges that we have made and we have voiced our concerns. We wait and see how that will be addressed.
PM Brown said the European Union has also recognised concerns raised by Pacific nations on the issue of climate change.
SOURCE: PACNEWS