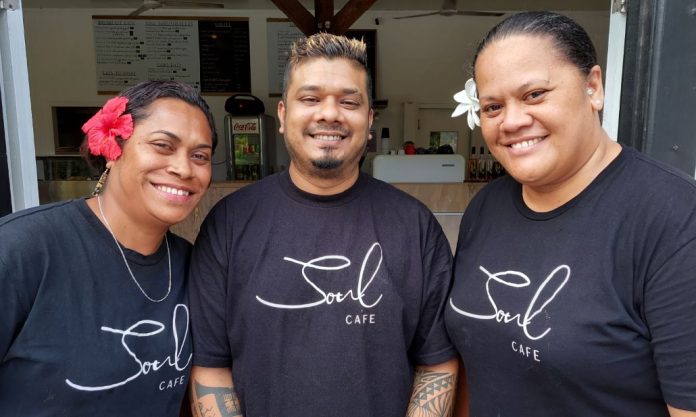 Café operators surrounding the venue for a Pacific Islands Forum gathering at the National Auditorium are anticipating patron numbers will reach those of peak tourism season during the event.
With more than 500 Pacific leaders and delegates converging on the Cook Islands for the 52nd Pacific Islands Forum Leaders Meeting next week, the event is "good timing" for a hospitality industry which typically braces for a dip in tourists at this time of year, The Café co-owner Ian Wheeldon says.
"It'll be wonderful if we get a bit of business from it," Wheeldon says.
"It coincides with a slightly quieter time of year so if we are busy, it will just be like normal peak-tourism busy."
The Café, located in the courtyard of the historic Beachcomber building, as well as Soul Café and Tupapa Maraerenga Café, are less than a five-minute walk away from the Cook Islands National Auditorium, where the majority of meetings between Pacific representatives will be held from 6 to 10 November.
Soul Café owner Vou Williams says his business has been commissioned to do one day of catering for the meeting, putting together breakfast platters for about 300 people on Wednesday.
"We normally do catering for the Government when we can."
Meanwhile, Williams and his team would be making sure the cabinet was brimming with food so busy Forum participants could "come in and go".
Williams says he feels prepared for an influx of customers from the Forum and will not need to work extra hours or add staff to his team of five, comprised of three in food preparation – including himself – and two manning the front counter.
"We're professionals. We will do more work within our hours."
Tupapa Maraerenga Café owner Tere Strickland says his business, which is usually open from 5am to 10pm, has been closing between 9am and 5pm for the past three weeks to make room for road maintenance at the National Auditorium.
The café, established in 2021 to service those attending classes at Tupapa Maraerenga Gym, will be back to opening the full 12 hours when the Leaders Meeting kicks off on Monday.
"We're tucked away on the back road, so we're hoping to utilise the Forum to attract more customers," he says.
"We'll have two people working in the café instead of one. We'll be doing more cooking, and have more items on the lunch menu."
Williams says the Forum will "definitely boost up" the Rarotonga economy.
"We needed it, because it's a bit quiet."
Wheeldon says patron numbers typically peak in August and September before slowing down, lifting over Christmas and falling off again for the country's remaining summer months.
His team of three, which includes wife Clare, are also feeling prepared to meet increased demand – despite facing supply shortages which he speculates have been exacerbated by the Forum.
"It seems the boats keep coming in, but the shelves are staying empty," he says.
"There's quite a lot of things we're missing. You have to work around it, but that's the way it's always been. We're used to running out of this, that, and the other all the time – but the shelves seem to be a bit emptier at the moment than they have been in previous years."
Wheeldon had been able to source oat milk earlier this week after about a month of being unable to buy any type of substitute milk, and a lack of takeaway cups had seen him fall back on using jam jars.
"We just rework the menu," he says.
SOURCE: COOK ISLANDS NEWS/ PACNEWS