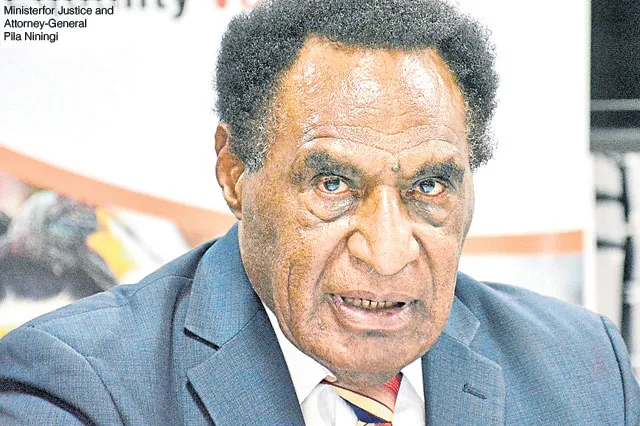 Papua New Guinea Minister for Justice and Attorney-General Pila Niningi says there is 'no warrant of arrest' for Prime Minister James Marape.
As the Government's legal advisor, he said this over the weekend to clarify misconceptions which led to Members of Parliament raising questions on the floor based on speculations on social media.
As Parliament resumes today, Niningi urged his colleague MPs to be responsible and raise concerns in the House with facts.
"There are recent speculations about a warrant of arrest for the Prime Minister.
"To date, no information disclosed on the warrant of arrest.
"No letter from the Police Commissioner.
"No warrant of arrest from the court," Niningi said. "Lately, we have been dancing to the tune on social media.
"You might think you're throwing mud on one person but you're doing it to all of us.
"Social media doesn't run the country.
"Ask with facts."
Niningi also spoke on the issue about people claiming to be landowners of resource projects in the country.
The Imbonggu MP pointed out that the question of who were legitimate landowners lies with the Lands Department.
"Not the Mineral Resources Authority or the Petroleum and Energy Department," he said.
He said the Lands Department identified genuine landowners through the issuing of integrated land group (ILG) certificates.
"Other departments should not mislead the people.
"If you say you're a genuine landowner, show the ILG certificate," he said.
The minister noted that there was a case pending before the National Court to establish legitimates ownership.
SOURCE: THE NATIONAL/PACNEWS