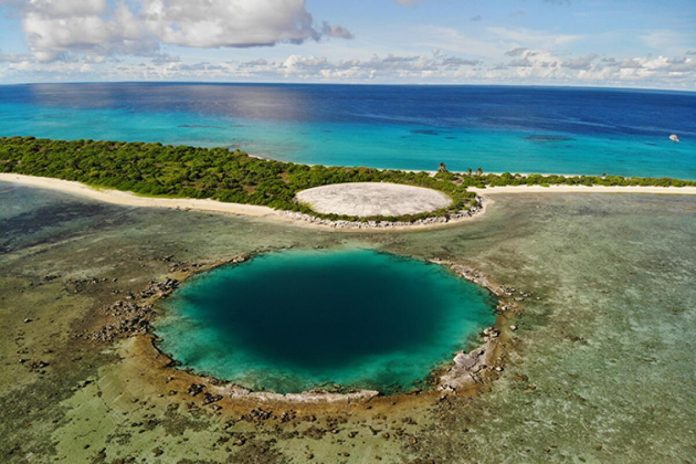 The United States struck security agreements last week with Pacific Island nations seen as a key part of U.S plans to counter China's territorial expansion.
But after three years of negotiations, one of those Pacific nations — the Marshall Islands — still has not reached a deal with Washington.
A member of the U.S negotiating team blames the State Department's legal team for the holdup, saying they object to how the agreement describes money for compensation from U.S nuclear testing in the Marshall Islands some 60 years ago.
The agreement — known as the Compacts of Free Association — gives Washington exclusive access to large parts of the Pacific Ocean surrounding Micronesia, Palau and the Marshall Islands. Funding runs out on 30 September.
"You would have to say that there was mission failure," said Howard Hills in an exclusive interview with VOA.
Hills negotiated those compacts alongside presidential envoy Ambassador Joseph Yun but left his position 07 September. Deals with Micronesia and Palau have been reached, while talks with the Marshall Islands have stalled.
In a speech before the United Nations General Assembly on 20 September, President David Kabua laid out the Republic of the Marshall Island's remaining demand.
"What the United States must realise is that Marshallese people require that the nuclear issue be addressed."
Kabua was referring to the environmental and health impacts of the 67 atomic bomb tests conducted in the Marshall Islands between 1946 and 1958.
But Hills said the State Department won't let Yun officially designate the funds as compensation for the effects of American nuclear tests in the Marshalls.
"If it were not for the State Department legal position, this could have been done in 2020. It could have been done in 2021. It could have been done in 2022," he said.
The objections appear to relate in part to a 1986 agreement on compensation for nuclear testing, which said at the time that it covered all claims related to the issue.
"The Compact and the Section 177 Settlement Agreement, which entered into force in 1986, constitute the full settlement of all claims, past, present, and future, of the government, citizens and nationals of the Marshall Islands related to the Nuclear Testing Program," says a State Department description of U.S relations with the Marshall Islands.
But Hills calls that position "disproven" because the agreement also created a political framework, which has allowed the U.S. to continue providing assistance related to the nuclear programme's effects.
"Congress added additional authorities that we've spent an additional US$200 million on nuclear in the last 20 years," he said.
Yun told VOA in August, "I personally believe that we still have moral and political responsibilities and so we have made it clear that in some of the money [for the] Marshall Islands — some could be spent on development, health care, environment issues of the affected islands within Marshall Islands."
In January, Yun signed a memorandum of understanding with the Marshall Islands providing US$700 million for a trust fund that could be used for that purpose.
The State Department declined to comment on whether its legal position was the source of the breakdown in talks with the Marshallese or that the U.S government has continued to compensate the Marshalls for the nuclear testing impact.
A department spokesperson told VOA that without new funding, Micronesia and the Marshall Islands "can use unspent funds" or their "Compact Trust Funds" to meet their budget needs. Palau still has another year of funding.
Critics of that position include some lawmakers in Congress.
"The State Department is firmly in control of this scenario," said Representative Aumua Amata Radewagen in an interview with VOA.
Radewagen says she saw first-hand the devastating impact of nuclear testing on the Marshallese people. She spent part of her childhood in the Marshall Islands when her father was the head of government.
"I can remember one time when he had to deliver a young boy," she said, "This boy had all kinds of cancer. He had to deliver this boy to his family. And things like that stick in my mind. I was a teenager then," said Radewagen, who represents American Samoa.
In a letter to lawmakers last week, Radewagen warned that China is waiting for an opening to grow its Pacific presence.
"There's another large country just sitting there, keeping their fingers crossed, hoping that this deal fails so that they can step right in," she said.
Radewagen says the negotiators told her they aim to have a new deal in October. She says lawmakers are ready to fund the agreement, as soon as one is finally reached.
SOURCE: VOA/PACNEWS