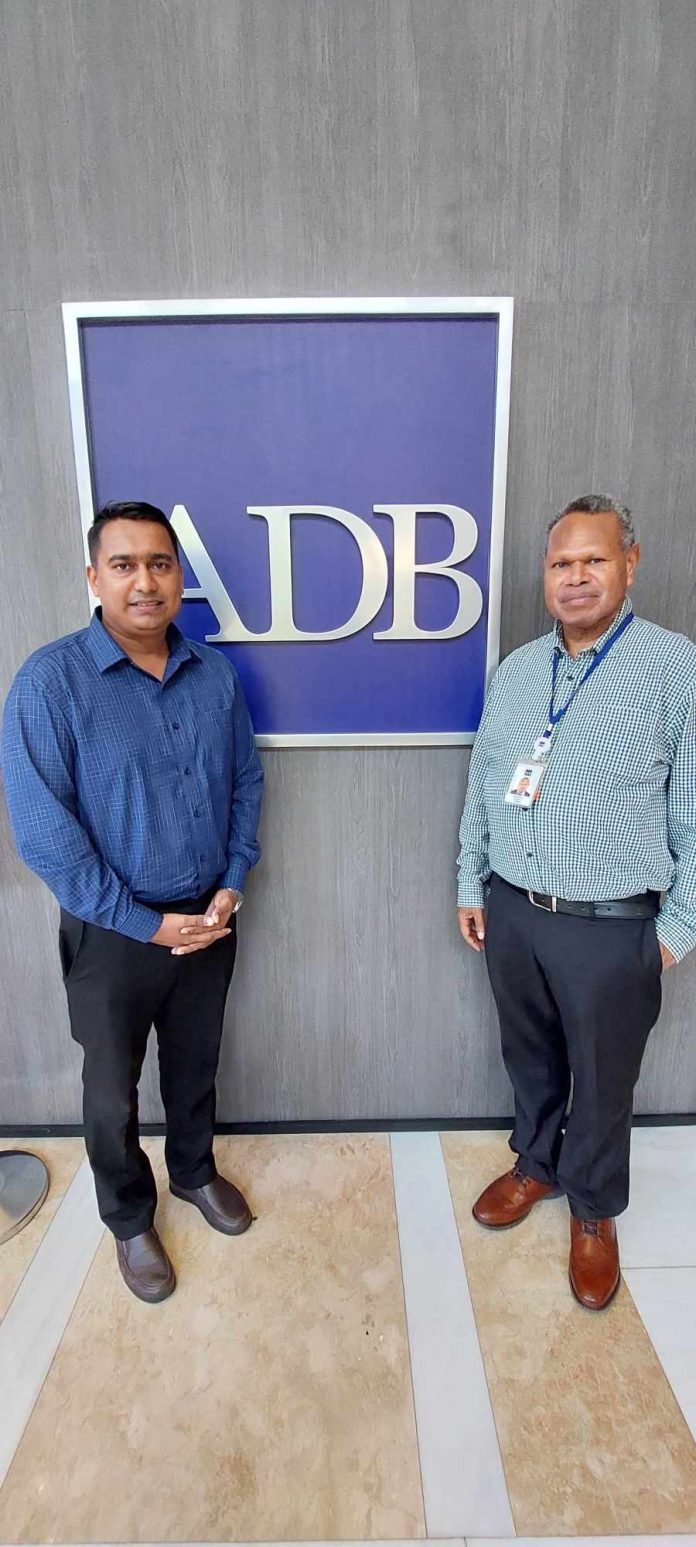 Papua New Guinea's seconded alternate director at the Asian Development Bank (ADB), Damien Horiambe is using the opportunity to not only raise issues for his country and the countries it represents on the Board but also strongly advocate for the Pacific Developing Member Countries (PMDCs).
Horiambe is based at the ABD Manila headquarters – serving in the office of the Board of Directors representing a constituency of seven countries – Papua New Guinea, Republic of Korea, Sri Lanka, Taiwan, Uzbekistan, Vanuatu and Vietnam.
Other Pacific MDCs are grouped in 12 constituency offices at the ADB.
"The Constituency office is headed by Executive Director, and assisted by the alternate Executive Director and two directors. Our role is to speak on development issues, which the ADB works on, concerning these countries. If there are development projects that they require, the ADB works on those development projects and bring to the Board for approval. It is our duty to support it and ensure that the project is approved for our member countries, Horiambe explained to PACNEWS in Manila.
Representing two Pacific nations on the ADB Board, Horiambe said climate change remains a top priority for Papua New Guinea and Pacific countries.
"The key one and most important for all of us, right now it's climate change. ADB is moving in the right direction, now branding itself as a climate bank, making available funding for climate change particularly for affected countries and also development aspects that ties in with climate change.
"My role is to argue for sufficient resources to address climate change, not only for Vanuatu, but for the
entire Pacific because all the Pacific Island countries cannot have all their alternate representatives here.
"While I'm here or if someone from the Pacific is appointed to the board, it is our duty also to speak for the other Pacific Island countries.
"All the development agencies are now addressing climate change and making funding available and our role also is to push for more resources for the facility, said Horiambe.
Another issue of particular interest to Papua and Fiji is on concessional loans – making them cheaper.
"One of the discussions that we are looking at right now is on concessional loans for a handful of Pacific Island countries that borrow from the bank. We are now discussing this issue to make concessional terms cheaper for the Pacific Island countries.
"This is on the period of repayment, the interest rate, any other charges that come along with interest rates. So what we are now discussing that issue to make sure that ADB considers the Small Island Developing Countries in the Pacific and to make it cheaper.
There is a suggestion for ADB to consider loan repayment term similar to the World Bank's International Development Association (IDA). IDA is a lending arm of the World Bank set up to help the world's poorest countries and offers zero to low interest loans and grants.
IDA's financing terms are determined with reference to recipient countries' risk of debt distress, the level of GNI (gross national income) per capita, and creditworthiness from the International Bank for Reconstruction and Development (IBRD) borrowing.
"The World Bank's IBA offers cheaper loans and grant. We are now discussing to make the ADB concessional lending on par with the World Bank. But as you know, said Horiambe.
Another priority for the Pacific is cleaner and sustainable renewable energy options.
"A lot of smaller Pacific Island countries spend a lot of money on importing diesel for their energy needs.
"The ADB is also championing the energy transmission mechanism to replace these heavy diesels to more renewable sources of clean energy. We can get help through funding so we can build more sustained clean energy projects and reduce heavy reliance on diesel, said Horiambe.
SOURCE: PACNEWS