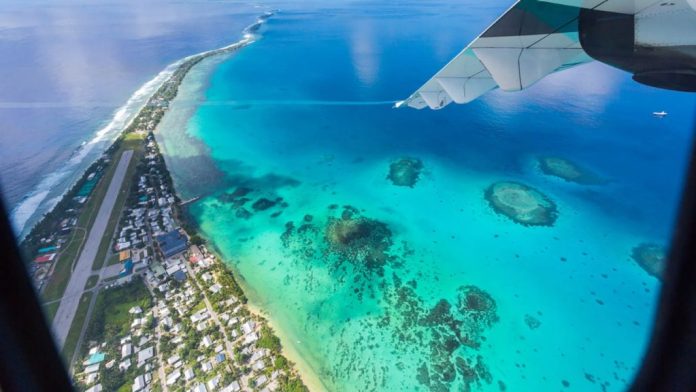 Immigration reforms are urgently needed to create a pathway for climate migration to Aotearoa New Zealand from the low-lying atoll countries of Tuvalu and Kiribati, a researcher says.
"There are currently no formal immigration pathways for Tuvaluans and I-Kiribati (Kiribati people) to migrate here for climate-related reasons," says Dr Olivia Yates, a graduate of the University of Auckland's School of Psychology.
"Instead, people who choose to migrate must navigate through our existing, and wholly insufficient, immigration system. As a result, community members are falling through the cracks and into lives without valid visas. This is not climate justice."
For her doctoral research, Yates engaged with the Tuvaluan and Kiribati communities in Tāmaki Makaurau Auckland, gauging attitudes toward climate change and looking ahead to Aotearoa New Zealand's responsibilities as a likely host of future climate migrants.
She's the lead author of a research report and policy brief, "Preparing for Climate Mobility from Tuvalu and Kiribati to Aotearoa," released during Tuvaluan Language Week.
Aotearoa New Zealand has a key role to play in equitably supporting those who wish to move, the report says, advocating a three-pronged approach:
*Making the journey easier by reforming existing visa pathways and creating a new climate mobility-specific visa pathway
*Supporting communities to regrow roots by backing community-led initiatives to ease resettlement burdens, support the maintenance of roots (identity and cultural heritage), and foster community engagement
*Rewriting the narrative by developing a communications strategy to educate and prepare New Zealanders for climate mobility from the Pacific
The theme of Tuvaluan Language Week – Vaiaso o te Gana Tuvalu, which runs to 07 October, is "Fakatumau kae fakaakoi tau 'gana ke mautu a iloga o 'ta tuā," which means "preserve and embrace your language to safeguard our heritage identities."
Safeguarding cultural identities are key issues for Tuvalu and Kiribati, which are among the countries most at risk of climate-related loss and damage as sea levels rise. Their average elevation above sea level is no more than two metres, which creates few opportunities for relocating within state borders to avoid climate threats.
Most people on the islands want to remain on their homelands, although some are looking to migrate, Yates says.
In 2015, New Zealand deported I-Kiribati man Ioane Teitiota who sought asylum claiming environmental degradation due to climate change made it unsafe for he and his family to return to their homeland.
In a landmark human rights case, the United Nations Human Rights Committee sided with the New Zealand Government but said countries should not deport asylum seekers if the effects of climate change in their homelands violated their rights to life with dignity.
"As neighbours to the Pacific, the New Zealand Government should ensure people can choose to stay in their homelands or to migrate elsewhere – and with dignity, into good jobs, with equitable pay and social protections – not as refugees," Yates said.
The report was produced by a group of researchers at Waipapa Taumata Rau, University of Auckland in partnership with the Tuvalu Auckland Community Trust, the West Auckland Kiribati Association, and the Auckland Kiribati Society Inc.
SOURCE: UNIVERISTY OF AUCKLAND/PACNEWS