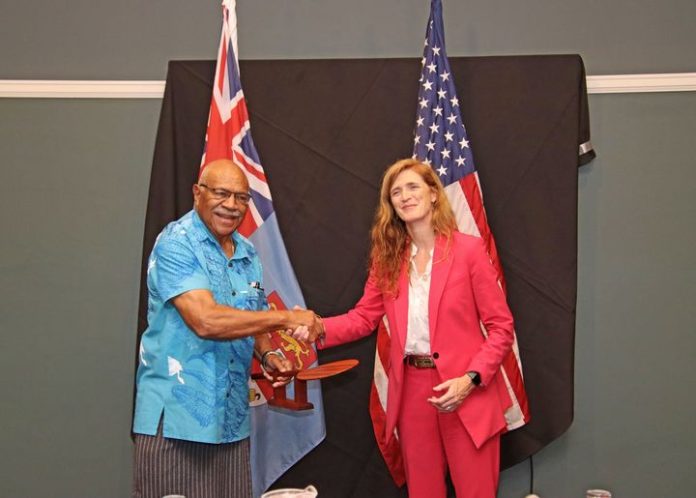 The United States has reaffirmed support for the Peoples' Coalition Government's development priorities to enhance democracy, boost economic growth, improve food security, empower women and youth; and enhance access to water, health and education.
This was conveyed to Fiji Prime Minister Sitiveni Rabuka during a courtesy call from the United States Agency for International Development (USAID) Administrator Samantha Power.
In appreciation of Fiji and the U.S renewed cooperation and strong friendship, Power presented a Hawaiian Koa paddle to Prime Minister Rabuka.
Inscribed on the paddle is the Hawaiian proverb – Ho'okahi ka 'ilau like ana ('wield the paddles together').
Prime Minister Rabuka thanked the United States for their timely support in establishing the new USAID Pacific Islands Mission in Fiji, which will strengthen USAID's ability to deliver results on bilateral and regional development priorities.
He welcomed the renewed commitment by the United States to increase its presence in the region to further advance ongoing cooperation.
Prime Minister Rabuka also conveyed the best wishes of the Government and the people of Fiji to President Biden and the American people.
Administrator Power said the United States recognises Fiji as a leader and important partner in advancing a free and open Pacific emphasizing that, "presence matters" which is the primary reason for USAID opening the new regional Office in Fiji.
"We aim to strengthen the message of the U.S government's long-term commitment to the Pacific. We will continue to listen to our Pacific partners on how to use our presence effectively. We will continue to deliver on Pacific priorities together.
"Our relationship is based on mutual respect; shared history; and common values of strength through diversity, fairness, and freedom," Power said.
Administrator Power reaffirmed the United States commitment to strengthen cooperation with Fiji at all levels of development.
"The U.S and Fiji enjoy a long, shared history and close relationship that is being strengthened by the opening of the USAID/Pacific Islands regional Office. Today, USAID and Fiji are working toward shared development goals across a variety of sectors."
The new USAID/Pacific Islands Office will employ 31 staff by August 2024; 24 in Fiji and seven from neighboring Pacific Island countries.
Meanwhile, there are no heroes or villains in the Pacific's geopolitical competitions as the threats of the climate crisis supersede geopolitical tension.
Deputy Prime Minister Professor Biman Prasad said this is why the Pacific is not interested in playing the blame game but in responding to the woes of climate change.
"The region knows too well that there are no good or bad guys in the geo-political contestation, and of course there is a debate about that as well. And we may say that we can blame all large economies but right now 40 percent of the greenhouse gases come from the U.S and China."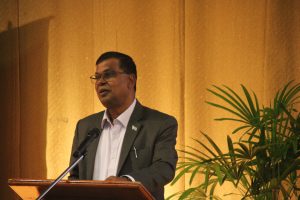 Prasad is calling for stronger Pacific regionalism.
"So in facing our existing gravest challenge of our time, we must work from this premise. We must work from this premise, that all we have is ourselves, as individuals' citizens of the Blue Pacific and as countries that make up the Blue Pacific and this is not inconsequential."
Meanwhile, the former USA's Ambassador to the United Nations Samantha Power says its support for the region in the form of grants and aid is an olive branch to help the Pacific with its development goals.
"We are back with greater numbers here than we've had in sometime and we will continue to expand our presence believing that in so doing, you know as they say, all ships will rise, fundamentally as this region becomes more prosperous and stable that is good for humanity that is good for the United States."
Over the years, the Fijian government has maintained that its greatest concern is climate change and not geopolitics.
SOURCE: FIJI GOVT/FBC NEWS/ PACNEWS