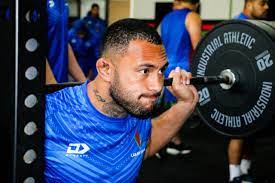 The Manu Samoa players are making progress in their fitness and strength as part of their training regime, says the team's strength and conditioning coach.
A lot of criticism centred around their fitness was directed at Manu Samoa after their last two games, with their narrow 24–22 victory over Japan against 14 men following the sin-binning of their captain.
However, Aitutagata Dave Edgar said the team has come from a stage where a lot of boys are coming off long seasons, rest periods and holidays.
"We definitely have come a long way. We've still got some progress to go. We're sort of almost done getting towards the end of our preseason. We're starting to push a little harder now getting a lot more specific," he said. "I'm not happy with our final spot yet, we can still be better but the indicators are showing that.
"I mean, we're hitting critical risks on a lot of boys in the gym, squat and bench press today."
The coaching panel had the team undertake a gym session on Monday morning where they were tested for strength in the bench press and squats. Following that, there was a two-hour session of drills and cardio.
Aitutagata said it was very important to look at the team's nutrition as they tried to get the players leaner and at the same time ensure that they were strong.
"And overall our actual skinfolds body fat percentage has dropped definitely over the last few months by millimetres. Pretty much everyone in the team and we've maintained some great, fantastic muscle mass to put that in terms we've actually transferred fat to lean muscle mass," he said.
Aitutagata said the overall approach to diet, strength and conditioning was scientific and research-based and they were not "plucking things out of the air".
"And what we've tried to do is have the individualised programs locked by the skinfolds drop so rather than have a blanket program that was unhappy because food is so bland and not enjoyable," he said. "We've tried to have food in there, but if you're not reaching your targets, they need different shoulder tips to save.
"No, you're not having that sort of food so we need carbohydrates in the heat to train really, really well. But we always have a good lot of protein but I think we'll get a step up in nutrition once we get to France for the World Cup. Obviously, budgets are a lot bigger at the World Cup."
The team is being taken through a systematic training regime where the coaching panel has to ensure that they do not train the players to injury because the 2023 Rugby World Cup (RWC) schedule in September is gruelling.
Unlike last week, training has not been hampered by the long travel and coaches are having more time with the players. Manu Samoa will face Tonga at Apia Park this Saturday.
SOURCE: SAMOA OBSERVER/PACNEWS