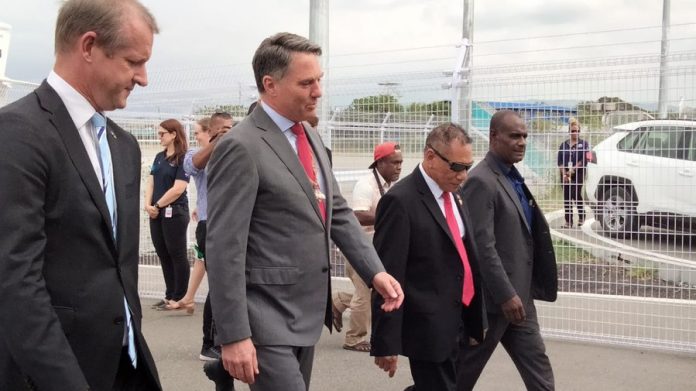 Deputy Prime Minister Richard Marles has suggested Australian troops and police might stay in Solomon Islands beyond this year, in a sign the federal government could push for an enduring security presence in the Pacific Island nation.
Marles will land in the country's capital Honiara later today for a two-day visit, where he'll hold talks with Prime Minister Manasseh Sogavare and meet Australian police and soldiers deployed there.
Both Australian Defence Force and Australian Federal Police personnel were sent to Honiara in late 2021, when Sogavare asked for help to restore order after major riots broke out.
At the time the Morrison Government insisted that it would be a short-term deployment, dismissing comparisons to the 14-year long Australian led RAMSI mission to stabilise Solomon Islands when it was wracked by escalating violence in 2003.
But in March last year both countries agreed to keep some Australian police and soldiers in the country until December 2023 as part of the Solomon International Assistance Force – which also includes personnel from New Zealand and Fiji.
That will keep the Australian contingent in place for the Pacific Games in November, which will bring thousands of people to Honiara and are likely to place a strain on the country's security forces.
And on Tuesday Marles suggested that Australia might seek agreement from the Solomon Islands government to keep its personnel there well beyond 2023.
"I think we will see them through to the Pacific Games, and obviously we are very focused on the role they are playing within Solomon Islands," the Deputy Prime Minister told the ABC.
"So we will talk with the (Solomon Islands) government about their ongoing utility and ways they could provide support."
The Defence Minister also stressed that Australia wanted to maintain "long term" security assistance for Solomon Islands.
"The point I'd make is that we see our engagement in the Pacific is measured over the long term. And being the best partner we can be to the Solomon Islands is making sure we are there over the journey," he said.
"And it's really that philosophy which is going to underpin this deployment but also the other ways we engage with Solomon Islands and its government."
Several defence personnel and 25 Australian Federal Police are currently deployed with the SIAF, while another 35 AFP officers are in Solomon Islands offering direct assistance to the Royal Solomon Islands Police Force (RSIPF).
Anna Powles from Massey University told the ABC that Marles might be taking the opportunity to "do some early signalling that Australia is open to an ongoing commitment to Solomon Islands".
It's not clear if Solomon Islands would accept such an offer.
Dr Powles said the government's decision would likely be "determined by what the mission mandate would be" but that Mr Sogavare might well be keen for additional security support to help with elections next year.
"2024 may prove to be a challenging year with the delayed elections due to take place and the provision of additional security may be welcomed," she said.
The Defence Minister's comments also come against the backdrop of the continuing contest between Australia and China for influence in Solomon Islands.
Beijing signed a deeply contentious security pact with Honiara in April last year and has been rapidly expanding its police cooperation programme since then.
Last year China's government supplied dozens of motorbikes and two water cannon trucks to the RSIPF, well as expanding training programmes for local police both in China and across multiple provinces in Solomon Islands.
Australia also gifted police vehicles and handed over 60 semi-automatic rifles to Solomon Islands police, and has repeatedly declared it wants to be the Pacific country's main security partner.
Multiple senior Australian officials have also made it clear they're uneasy about China's deepening involvement with Solomon Islands law enforcement agencies, suggesting it might be deeply destabilising.
Dr Powles told the ABC that if Chinese police contingents were invited into Solomon Islands in the future it could create significant risks, particularly if there was an enduring Australian police presence in the country.
"If there are multiple police forces operating in Solomon Islands — particularly those with distinct command and control — it will be critical to ensure communication lines and even a crisis hotline is put in place to reduce and manage any potential friction between the forces," she said.
Marles told the ABC that the relationship between Solomon Islands and Australia was both "enduring" and "improving" and that "security within the Pacific should emanate from the Pacific family first."
He also said he would use his visit to Solomon Islands to build economic links and ensure Australia's development program was delivering what people needed in Solomon Islands.
"We'll continue to focus on the way Australia can contribute to Solomon Islands development … our focus needs to be on improving the development outcomes of all countries around the Pacific," he said.
"And I'll look forward to having discussions with Sogavare on how we can best improve that," he said.
SOURCE: ABC PACIFIC/PACNEWS