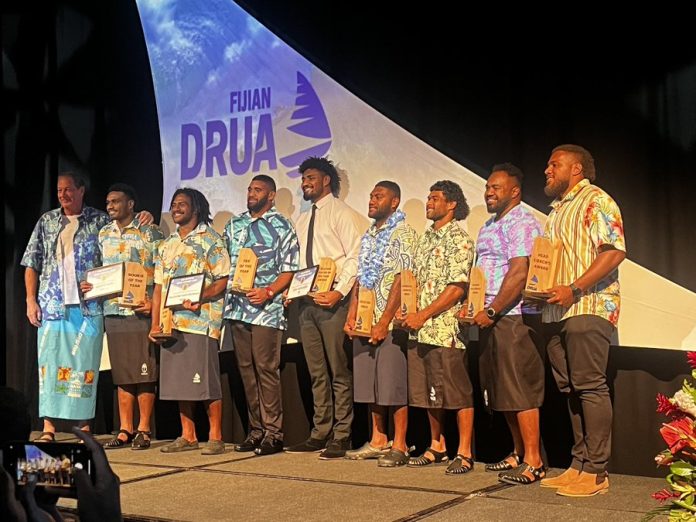 In a night filled with celebration and recognition, the Swire Shipping Fijian Drua's hooker, Tevita Ikanivere, emerged as the shining star, claiming the top award at the team's inaugural awards ceremony held at the Sofitel Resort last night.
Ikanivere's exceptional performance throughout the season earned him the admiration and acknowledgement of Head Coach Mick Byrne, cementing his place as a key contributor to the team's success.
Ikanivere's recognition as the recipient of the Fiji Airways Head Coach's award is a testament to his outstanding skills, unwavering dedication, and immense contributions to the Swire Shipping Fijian Drua's memorable season.
He received a plaque, certificate, and $1,000 (US$500) cash.
While receiving the award, the 23-year-old who was a bit emotional as usual put the team first as he thanked everyone who supported them in any way possible during the season.
"I didn't expect to get this award I know there's 30 other people in this team that could have gotten this award but thank you coach for believing in me this year and thank you for everything."
The inform hooker also won the Swire Shipping Dausoko award. The award is given to a player who reflects everything the Fijian Drua is about.
Other winners saw prop Mesake Doge win the FBC Veiliutaki Award, VT SOLUTIONS Fan Player of the Year went to wing Selestino Ravutaumada, FijiCare Rookie of the Year award was won by centre Iosefo Masi, the Rooster Chicken Players' Player of The Year Award went to lock Isoa Nasilasila, The VODAFONE FIJI Try of the Year was won by captain Meli Derenalagi, the ANZ Personal Development Award was given to Mesake Doge while the Sky Pacific Commercial Champion Award was given to Simione Kuruvoli.
The event served as a momentous occasion to acknowledge the team's remarkable journey, culminating in their historic qualification for the quarter-finals in the fiercely contested Super Rugby Pacific competition.
It was an evening where celebration and recognition intertwined, paying homage to the team's unwavering dedication, perseverance, and pursuit of excellence.
As the team sets their sights on future seasons, they will undoubtedly continue to inspire and captivate the rugby world, leaving an indelible mark on the sport.
SOURCE: FBC SPORTS/PACNEWS