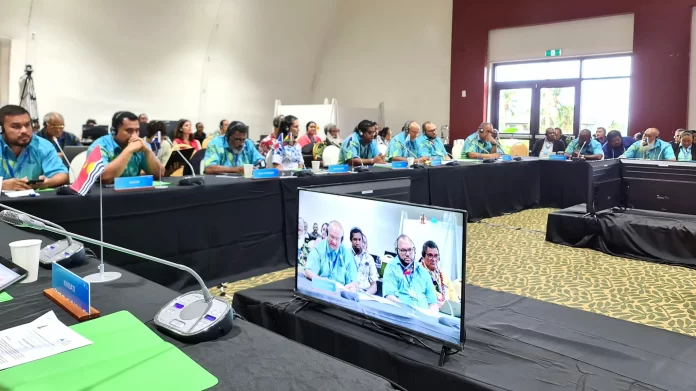 By Elenoa Dimaira
Civil societies have applauded the Efate Outcomes Statement issued after the 5th Pacific Regional Ministers Meeting this week in Port Vila, as it prioritised a people-centred approach to achieving a Just and Equitable Transition towards a Fossil Fuel Free Pacific.
"We commend the Pacific Energy and Transport Ministers for their decision to accelerate efforts for a just and equitable transition, underscoring the urgency to act in the face of the existential threat of climate change," Lavetanalagi Seru, Regional Coordinator for the Pacific Islands Climate Action Network said. "Pacific governments must accelerate decarbonisation in the energy and transport sectors, and the region should be a leader in the phasing out of fossil fuels"
The Efate Outcomes Statement called on the Pacific Forum Leaders to endorse the Port Vila Call for Fossil Free Pacific, which was signed by Fiji, Vanuatu, Solomon Islands, Tonga, Niue and Tuvalu.
"We welcome and celebrate the outcome from the Pacific Energy and Transport Ministers, alongside Tonga's endorsement of the Fossil Fuel Non-Proliferation Treaty," Joseph Sikulu, 350.org Pacific Managing Director says: "The Pacific continues to model the leadership needed to avert the worst of the climate crisis, and to create climate solutions with a just, people-centered approach. We call on those that claim to be neighbors, allies and friends of the Pacific to follow suit and utilise the multitude of resources, finance and political weight available to them to support the just transition."
The Pacific Energy and Transport Ministers also called for Leaders to establish a Pacific Energy Commissioner, as the region strives to increase access to energy as well as increase renewable energy sources. At least 64 per cent of Pacific Islanders do not have access to 24-hour electricity while 30 per cent do not have access as all.
"TuCAN welcomes the Efate Outcome Statement by Pacific Energy and Transport Ministers. As a region, we continue to cut through the doom and gloom and create our own path towards an equal, fair and just future. We no longer have the luxury of time and as such commit to working alongside our Pacific governments towards the full realisation of the Port Vila Call to Action,"
Tuvalu Climate Action Network (TuCAN) Richard Gokrun, Executive Director,) said.
George Koran, Vanuatu Climate Action Network Coordinator congratulated the ministers for "sustaining the climate ambition required to accelerate decarbonisation and move the region towards a just and equitable transition".
"As momentum continues to build within our region, it is now up to our leaders to continue down the path of reimagining our own future and to show everyone that another world is possible, one free from fossil fuels. They must endorse the Port Vila Call to Action," he said.
SOURCE: PASIFIKA ENVIRONEWS/PACNEWS