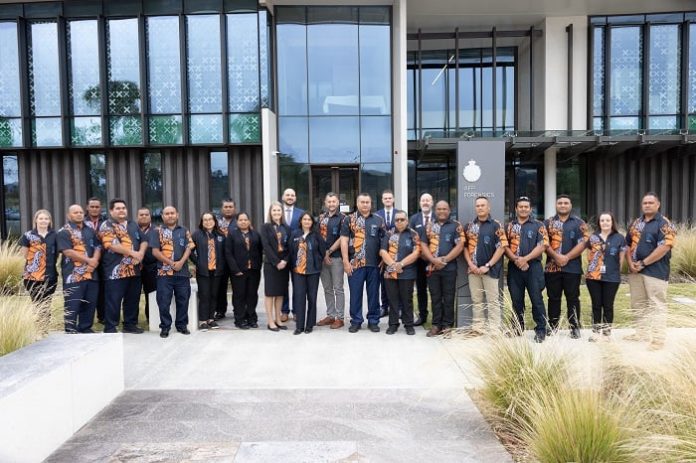 The AFP and forensic leaders from 11 police forces across the Pacific gathered in Canberra last week, to strengthen and support forensic capabilities across the region.
AFP Forensics hosted its first face-to-face Pacific Forensic Working Group (PFWG) meeting in three years, with members from the Solomon Islands, Fiji, Samoa, Kiribati, Guam, Palau, Nauru, Cook Islands, Federated States of Micronesia, Tonga and Tuvalu in attendance.
The PFWG is a regional body under the Pacific Islands Chiefs of Police (PICP) that works to enhance police forensic capabilities across the Pacific region. It allows partners to identify current challenges in investigative areas including digital forensics, crime scenes, fingerprinting, and work together to overcome them.
The AFP through its Pacific Command and the Pacific Police Development Program Regional (PPDP-R) continues to support the forensic needs of its Pacific partners by providing specialist equipment, offering training, and deploying forensic members overseas to assist with investigations.
Most recently, two AFP forensic members assisted Vanuatu Police Force investigate the cause of a fire that destroyed the Chiefs Nakamal, the custom Parliament for Vanuatu's Chiefs.
The AFP's International Forensic Engagement (IFE) team plays an important role in coordinating offshore forensic activities to ensure Pacific partners are well supported.
AFP Chief Scientist Dr Simon Walsh said the AFP had Forensic members based in Pacific countries who worked side by side with local partners.
"The AFP has Forensic Advisors based in the Solomon Islands and Timor-Leste and an IFE member working remotely from Fiji who are on the ground supporting and mentoring their counterparts in digital forensics, crime scene investigation and fingerprint comparison," Dr Walsh said.
The IFE team also ensures members from Pacific nations have the opportunity to travel to Australia to undertake training and observe the capabilities of and engage with experts from AFP's Forensics Command.
"So far this year, we have had the pleasure to host dignitaries from Fiji, Tonga, Solomon Islands, Vanuatu, Samoa and Kiribati, where they were able to tour the AFP's world-class forensics facility in Canberra and learn more about the work we do.
"It also gives the AFP valuable insight to understanding the current capability in the Pacific as well as identify opportunities for development or enhancement."
Dr Walsh said the PFWG meeting was a fantastic opportunity for Pacific partners to come together and share information to ensure the best forensic outcomes for all police forces in the region.
"The Pacific is a vast environment with multi-faceted policing challenges and the AFP is committed to continuing our strong relationship to help combat transnational serious organised crime threats in the region, establish best practice forensic techniques and improve forensic capabilities."
The PFWG Executive Sponsor is Guam Police Chief Stephen Ignacio who was represented at the meeting by Lieutenant David Brantley.
SOURCE: AFP/PACNEWS