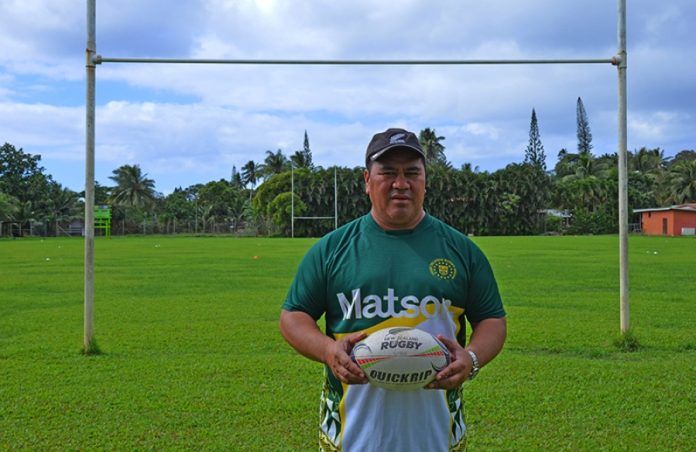 Cook Islands Rugby Union (CIRU) held its annual general meeting last week to discuss its way forward following a challenging 2022 season.
Simiona Teiotu was re-elected the president of CIRU for a four-year term at the AGM held on Tuesday at CISNOC House in Nikao.
Prime Minister Mark Brown was once again elected patron of the national governing body.
CIRU members also elected three vice presidents Frances Toa, Harriet Tuara and William Taripo. Three other vice presidents were elected from the community by the new executives – Anthony Turua, Sunielia Tom and Wallace Aroita.
CIRU development manager Ben Koteka said: "In terms of continuity and resilience during the period of uncertainty and to keep the faith all previous executive members (Teiotu, Toa, Taripo and Turua) have retained their seats."
"The seven-member CIRU Executive Committee features three females (Toa, Tuara and Tom.
"All three of the newly elected members (Tuara, Tom and Aroita) were heavily involved with the local-based U18 Women's 15s team that travelled to the U18 Oceania Development Camp that was held in NZ in October 2022.
"Congratulations to the new CIRU Executive Committee as we all look forward to an exciting journey ahead."
In his annual report, Teiotu said Cook Islands Rugby had gone through a really challenging 2022 season with the organisation facing financial set-backs due to an unsuccessful world qualifying campaign against Tonga in 2021.
"Further, the continuous negative impact of Covid-19 on the community and our economy has left our organisation quite fearful of the future of rugby here in the Cook Islands," he said.
"The extent of its impact has forced most of our valued sponsors and partners to withdraw its support from most of our 2022 programmes making it difficult for the organisation to provide highly marketed games.
"Further, the emigration of young Cook Islanders offshore has certainly put a strain on the clubs with most clubs struggling to field teams during the season.
Where we once had six senior men's teams in club rugby, we have now been reduced down to only three senior men's teams."
However, in light of the challenges that the Union faced thus far, Teiotu said his small team persevered in the face of adversity and "I am none-the-less happy that we have reached the end of 2022 season smiling".
"This is a testament of our passion in rugby and the power of working together with our community to keep the game that we love going!"
Looking into 2023, Teiotu said it promises to be a busy year on many fronts with the continuation of the local programmes along with the Pacific Games taking place in Honiara, Solomon Islands and also the Oceania 7s tournament both of which will be held in November/December.
"CIRU has already had teams earmarked to visit our shores for a cultural exchange programme and also games of rugby. I believe this will be a great start to help increase our numbers in our game and will certainly provide some really good entertainment for lovers of rugby."
Rugby development manager Koteka says he hopes the organisation is able to re-structure and re-organise to accommodate the demands of World Rugby and at the same time maintain the current programmes that have been a part of the culture for many years.
"I am grateful for the new help we've received from our rugby development officers, our volunteers and our board to ensure that we reach the end of 2022 season.
"We have seen a dynamic change in how rugby is now compared to 40 years ago when I was playing not only at player level but at administration level as well. I believe in order for the Cooks to be successful, we must learn to adapt to the changing nature of the game. This is something I look forward to in 2023."
The 2023 rugby union season will kick off in June.
SOURCE: COOK ISLANDS NEWS/PACNEWS