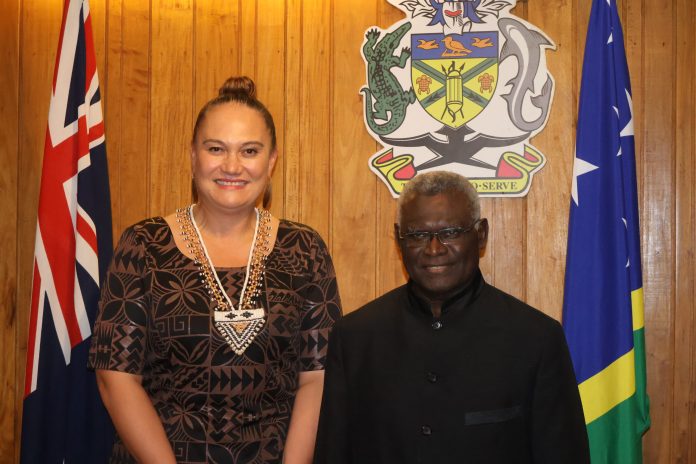 Solomon Islands Prime Minister Manasseh Sogavare Monday received a courtesy visit from the New Zealand deputy Prime Minister and Associate Minister for Foreign Affairs, Carmel Sepuloni.
In the brief courtesy call, Prime Minister Sogavare acknowledged the deep and meaningful relationship between Solomon Islands and New Zealand which dated way back to before the country's independence in 1978.
PM Sogavare assured the New Zealand Deputy Prime Minister of Solomon Islands' continued commitment to ensure the relationship is sustained and maintained in many years to come.
The Prime Minister also spoke briefly about security, highlighting that the security focus of Solomon Islands is how to ensure the country remains united.
PM Sogavare informed the deputy PM of New Zealand of the Truth and Reconciliation Report ('TRC report') which parliament will debate in its current sitting. Further highlighting the report has a lot to offer in the aspiration to unite the country.
The Prime Minister also reaffirmed the country's support and stand on the Rarotonga Treaty, highlighting the need to ensure compliance to the non-proliferation of nuclear weapons.
He also acknowledged New Zealand's support on the issue of climate change at the recent Pacific Islands Forum Leaders' meeting.
The Prime Minister further talked briefly about the Bina Harbour Tuna Processing Plant Project, acknowledging New Zealand's financial injection into the project.
The Prime Minister further highlighted budgetary gaps in the preparation for the national general elections next year and the hosting of the Pacific Games.
In her response, New Zealand's deputy Prime Minister and Associate Foreign Affairs Minister, Carmel Sepuloni acknowledged the relationship between the two countries.
Sepuloni raised a number of issues which include climate change, NZ's position in the on- going geopolitics, labour mobility RSE, PIF's unity and the election.
The NZ deputy Prime Minister also informed PM Sogavare of NZ's contribution of NZD $15 million (US$9.28 million) towards Provincial Climate Change adaptation initiatives.
Sepuloni also acknowledged PM Sogavare's leadership in the recent PIF in contributing to the Pacific region's unity.
SOURCE: SIBC/PACNEWS