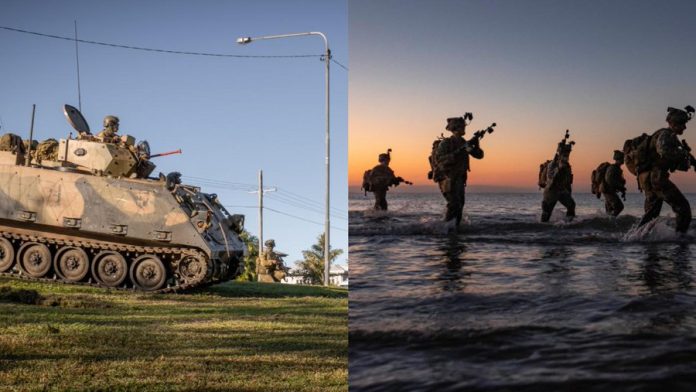 A massive military operation – described as the "largest ever" in its history – involving some 30,000 military personnel will be hosted across multiple Australian states.
Now in its tenth iteration, the biennial Exercise Talisman Sabre will run from 22 July through to 04 August, taking place primarily in Queensland.
About 30,000 personnel from the Australian Defence Force (ADF) and U.S military will be mobilised for the operation.
Military exercises will also take place in Western Australia, the Northern Territory and New South Wales.
They will involve "large scale logistics, multi-domain firepower demonstrations, land combat, amphibious landings and air operations".
Deputy prime minister Richard Marles said the record-breaking exercise was a "practical demonstration" of Australia's alliance with the United States.
"Australia is excited to host what will be the largest ever iteration of Talisman Sabre this year, involving more of our partner nations than ever before," he said.
"Talisman Sabre reflects a shared commitment to enduring relationships between trusted partners, and a stable Indo-Pacific through an upholding of the rules-based order."
Talisman Sabre Exercise director brigadier Damian Hill said the 14-day exercise would illustrate Australia's capability to receive and mobilise military resources.
"This year's exercise will demonstrate our ability to receive large volumes of personnel and equipment into Australia from across the Indo-Pacific and stage, integrate and move them forward into the large exercise area.," he said.
Fiji, Indonesia, Japan, the Republic of Korea, New Zealand, Papua New Guinea, Tonga, France, the United Kingdom, Canada and Germany will also participate as partner nations.
The Philippines, Singapore and Thailand will attend as observers.
SOURCE: NEWS.COM.AU/PACNEWS