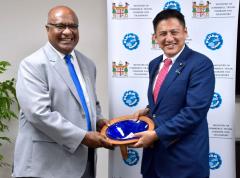 Fiji's deputy Prime Minister and Minister for Trade and Cooperatives Manoa Kamikamica received a courtesy call Thursday from the Japanese State Minister for Foreign Affairs, Shunsuke Takei.
Takei's first official visit to our shores this week signifies the strength of Fiji and Japan's cooperation in the socioeconomic development.
It also affirms Japan's unwavering support to Fiji and the opportunities for higher levels of cooperation in the post pandemic era.
DPM Kamikamica welcomed Takei and also expressed Fiji Government's sincere appreciation to the Government of Japan for its continued support to Fiji over the years.
He said Fiji looks forward to further strengthen the mutual cooperation with Japan in areas of shared priorities such as economic recovery and climate adaptation.
He also welcomed the prospects for greater partnership in trade and tourism, agriculture, fisheries, and infrastructure development.
In response, Takei said Japan and Fiji share over 50 years of strong friendship and diplomatic relations.
"We are crucial partners sharing the fundamental values. It is my great honour to visit Fiji for the first time representing the Japanese Government. We are promoting the further strengthening of the free and open international order under the rule of law, underpinning the vision of 'Free and Open Indo-Pacific (FOIP)'.
"Through this visit, we hope to further strengthen bilateral relations and cooperation with Fiji and the Pacific Islands region."
On regional cooperation, Japan aspires to collaborate with the leaders of the Pacific Island Countries at the Pacific Islands Leaders Meeting (PALM) on following priority areas of assistance that reflects on Pacific's collective needs, based on a medium- to long-term perspective.
At the last PALM9 in 2021, five priority areas were agreed upon namely; 1) COVID-19 Response and Recovery, 2) Sustainable Oceans based on the Rule of Law, 3) Climate Change and Disaster Resilience, 4) Strengthening Foundation for Sustainable and Resilient Economic Development, 5) People-to-People Exchange and Human Resource Development.
Among these, the current focus is on economic recovery, human resource development and infrastructure development with a view to a post-pandemic situation
SOURCE: FIJI GOVT/PACNEWS