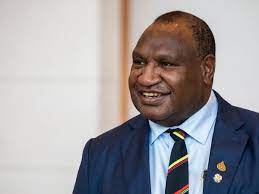 China is ready to receive Papua New Guinea Prime Minister James Marape in Beijing for a State visit with President Xi Jinping.
Marape is scheduled for a Chinese State visit soon at a date of convenience to be set.
But the Chinese government has confirmed they are ready to receive Marape whenever time is convenient.
"China and PNG have maintained close exchanges and communications at the leadership and other levels to promote the development of bilateral relations and practical cooperation between the two countries.
Marape was invited by China for talks with President Xi this month, an offer he is yet to officially accept.
The invitation was delivered by visiting Chinese special envoy to the Pacific, Ambassador Qian Bo in Port Moresby early this month.
Marape was invited to address the government of China in an important dialogue today, an offer the Prime Minister did not accept but agreed to a State visit soon.
Marape said he had a one-on-one dialogue with President Xi during his visit to Bangkok, Thailand, for the Asia-Pacific Economic Cooperation meeting at the end of last year.
"I have great respect for President Xi Jinping. I appreciate the invitation to engage in dialogue," he said.
"Chinese stability ensures that the global economy has a stable outlook.
"That is the contribution his re-election has given to the world.
"All economies depend on the stability of certain parts of the world, and China is the leader in trade and commerce in our region.
"Where there is stability in leadership, the rest of the economies that depend on China can focus, plan and work better together," he said.
SOURCE: POST COURIER/PACNEWS