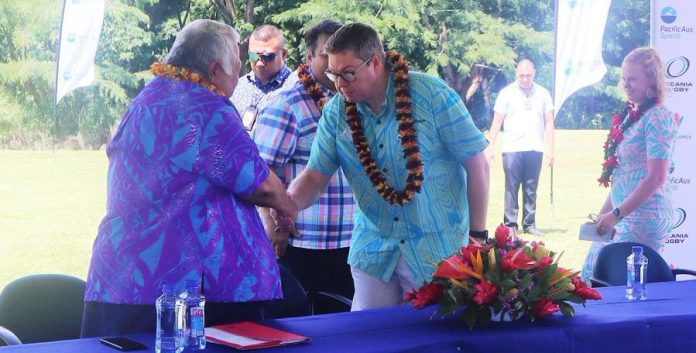 Australia's Minister for International Development and the Pacific, Pat Conroy has announced Australia's support of AUD$220,000 (approx. WST 390,000)for the Manu Samoa team ahead of the 2023 Rugby World Cup to be held in France.
The Minister was on the final day of his two day visit to Samoa that focussed building on the people-to-people connections that make the Samoa-Australia partnership so strong.
Conroy said rugby is an integral part of Samoa and Australia's national identities and a symbol of the shared love of sports between the two nations.
"This Australian Government funding recognises our shared love of rugby, and the power of sports to bring our people together. Australia's Pacific AusSports Initiative also assists other sporting codes including netball, cricket and rugby league.
"Sport has the power to transcend borders, cultures, and languages, and brings people together in a way that few things can. As someone who grew up playing and watching rugby, I understand the deep connection that people can have to their favourite teams and athletes," Conroy said.
Minister Conroy, who is also the Minister for Defence Industry, visited the Samoa Police Maritime Wing to see the important efforts being made to protect Samoa's waters.
Together with Samoa's Minister of Police, Prisons and Correctional Services, Afioga Faualo Harry Schuster, Minister Conroy launched the Samoa Police interim training facility for the training of new Police recruits.
Visiting the Samoa Police interim training facility for the training of new Police recruits.
This new training facility alongside others provided by Samoa's other development partners will ensure a highly skilled and capable Samoa Police force, supporting the Samoa Police, Prisons and Corrections Services' mission for a safer Samoa.
Minister Conroy also called on Samoa's Head of State, Afioga Tuimalealiʻifano Vaʻaletoʻa Sualauvi II, to convey the warm wishes of the Australian people for his continued good health. They also discussed the contributions of the Samoan diaspora to Australia's national fabric as well as the Head of State's role as Chancellor of the University of the South Pacific, a vital regional institution.
Minister Conroy was grateful for the opportunity to visit Samoa and to further progress the commitment made through the recent Samoa-Australia Bilateral Partnership Arrangement, 'O le Fala Folasia I Lo Ta Va', signed by Prime Ministers Fiame and Albanese in Australia last month.
He said the Government of Australia looks forward to continuing its work with the Government of Samoa to achieve our shared aspirations for a safe, secure and prosperous Samoa and wider Blue Pacific.
SOURCE: TALAMUA ONLINE/PACNEWS