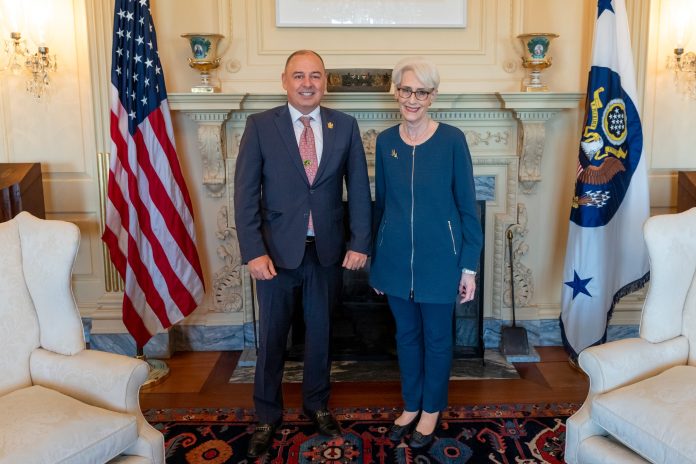 The Cook Islands are a step closer to forming formal diplomatic arrangements with the United States.
Prime Minister Mark Brown, who recently visited Washington DC and met deputy secretary of state Wendy Sherman, said things were progressing well.
"We had some very good discussions with the state department. It's really just finalising the final legal details, and hopefully we will have formal diplomatic relationships with the United States established by the middle of this year," PM Brown said.
"This will mean the United States will become the 58th country with whom we have formal diplomatic relations. It also means that we will have a direct relationship that we can build around when it comes to issues of trade, and possibly having a formal diplomatic presence in the United States."
PM Brown said the discussions also built on exchanges held in Washington in September last year during the historic U.S-Pacific Leaders' Summit hosted by US President Joe Biden.
During the Leader's Summit, attended by Brown and Pacific Island Forum Leaders (PIF), President Biden delivered remarks outlining the U.S' elevated engagement with the Pacific and recognition of Cook Islands sovereignty for the first time.
The Cook Islands will host the PIF later this year.
Brown also attended the SAFE summit in Washington, pushing forward the Cook Islands case for seabed minerals exploration.
"I thought we were received very well. It was a wonderful engagement, both from an industry level, and the Government's side. We managed to get a lot of our four days there," PM Brown said.
"The conference was an opportunity to hear from US industry, but also key US government officials on the importance strategic metals have towards the U.S ongoing policy of reducing carbon emissions."
PM Brown said it was a huge opportunity.
"They're moving towards cleaner energy systems, and strategic metals can play a part in that. We can be part of that supply chain when it comes to the green revolution," he said.
Brown also held meetings with Deputy National Security Adviser of the United States Jon Finer, Deputy Assistant to the President and Indo-Pacific Coordinator for the National Security Council Dr Kurt Campbell and Under-Secretary for Economic Growth and Environment Jose Fernandez.
SOURCE: COOK ISLANDS NEWS/PACNEWS