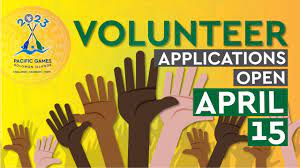 Applications for the Sol2023 Pacific Games Volunteer Programme will open on the 15th of April.
This kick starts the process the Games Organising Committee (GOC) is embarking on to recruit and train over 2500 volunteers to join the Games Collective Workforce.
Those interested can apply for a variety of Games time roles that support the delivery and operations of the Sol2023 Pacific Games. These roles include;
• Accommodation
• Accreditation
• Anti-Doping
• Athletes Village
• Broadcast
• Catering
• Ceremonies & Culture
• Logistics
• Press Operations & Media
• Spectator Services
• Team Support
• Technology
• Ticketing
• Transport
• Venue Operations
• VIP & Protocol
• Volunteer Services.
Applications will be made available online or collected at the GOC Workforce Centre at AJ City Mall, Lunga by 15 April, 2023.
For more information on the Volunteer application process, please do check the Volunteers Handbook on the Games Official Website (www.sol2023.com.sb).
SOURCE: PACNEWS