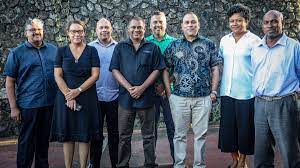 Representatives of the Fijian media have commenced work to revive the Fiji Media Council that was last operational prior to the promulgation of the 2010 Media Industry Development Authority Decree.
The Fiji Media Council is a body made up of national media, government, and community representatives to handle complaints and media standards.
The Council says they are guided by the industry Code of Ethics that sets out the guidelines and standards that every publisher and broadcaster has agreed to abide by.
The objectives of the Media Council are to promote high journalistic standards, to safeguard the media's independence, to uphold freedom of speech and expression, to uphold public's right to be informed accurately and fairly, to promote an independent and effective Complaints Committee and to promote a Code of Ethics and Practice for journalists and media organisations.
They say media leaders are committed to rebuilding a council that is relevant, responsible and proactive to public concerns and complaints.
The Council said details of the complaints process and procedures and the make up of the Media Council will be announced shortly.
SOURCE: FIJI VILLAGE/PACNEWS