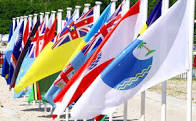 A Pacific Islands Forum Election Observer Team has completed it's first every deployment to the Federated States of Micronesia General Election.
The Forum Observer Mission team comprised Rosalie Motellang of the Republic of the Marshall Islands Election Office, supported by the Forum Secretariat, and was deployed in-country from 01 to 10 March 2023.
The Forum Team were the only international observers to observe the 07 March elections.
Contesting 14 seats in the FSM Congress were 29 candidates (26 men and 3 women) across the four States of Chuuk, Pohnpei, Kosrae and Yap. Each State elected one candidate as its 'At-Large' representative to serve a term of four years. The other ten elected representatives serve a two-year term. Of the 14 elected representatives, 2 women were elected.
The Forum Team observed pre-enabling election activities as well as polling day in Pohnpei State.
The Team commends the National Election Office for the overall implementation of the legislative and technical aspects of the election and will prepare a comprehensive mission report containing its observations and recommendations, with some interim observations as follows:
• Election day was peaceful, calm, and orderly, and the Forum Team did not witness any attempts to disrupt polling;
• Election Offices face capacity and resourcing constraints, including the adequate and timely disbursement of funds to conduct elections;
• There are indicators of election and political fatigue in the FSM, particularly noting the regular frequency of elections (legislative elections every two years);
• The low number of women candidates, and persisting obstacles to women's election and representation at national political decision-making positions;
• The need to reconcile election legal frameworks for conducting National, State and Municipal elections to avoid unnecessary complexities in conducting elections at the three different levels; and
• There are opportunities to strengthen some administrative, logistical, and integrity building aspects of the election, particularly with respect to: the accuracy of the electoral roll; civic awareness; better election-related coordination among and between public offices and civil society; the secrecy afforded to voters while marking their ballots; and the process for conveying unofficial election results from each State to the National Election Office and the public thereafter.
Before concluding its mission, the Forum Team met with representatives of the FSM Government and National Election Office to share some of their observations, and were grateful for the commitment of officials to address some of the identified issues. The Forum Team's final report will be submitted to the FSM Government and National Election Office for consideration before it is made publicly available.
Forum Election Observer Missions have been deployed since 2001, the most recent to the 2022 Vanuatu snap election.
SOURCE: PIFS/PACNEWS