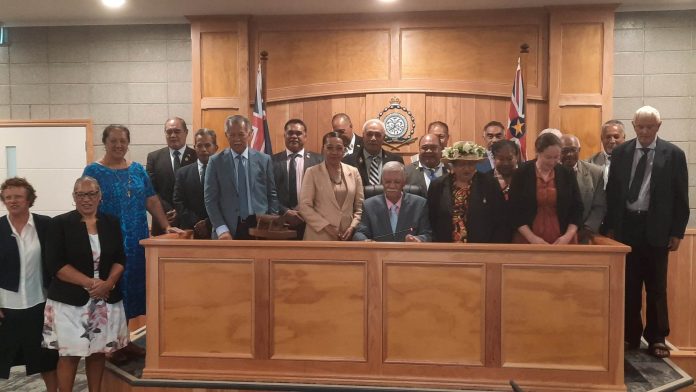 Pacific Islands Forum Secretary General Henry Puna is wrapping up a week of stakeholder sessions in Niue with a visit to the national college, Niue High.
The visit to the college, where he will speak at the school assembly and present the head girl and boy with copies of the 2050 strategy will be especially symbolic – the strategy provides a peek into the Pacific future today's high school students will be leading by 2050.
"We began our visit to Niue with the wonderful welcome and talanoa with Premier Tagelagi—and it's only fitting that we end it with tomorrow's leaders, especially with this strategy in mind." SG Puna said.
SG Puna and delegation were met on arrival into Niue by the Premier Dalton Tagelagi on Monday. The Forum visit allows for a series of national consultations to promote the values of regionalism and the Pacific 2050 strategy, and as part of that they've met with leaders from civil society, the private sector, and government. Visits to Niue high and USP students, as well as a focussed session around revitalising Forum Leader pledges on gender equality, have expanded the connections and talanoa beyond the usual high level political and public policy circles.
"Niue has been vocal and passionate in its Forum role and holds strong and supportive views on solidarity and working as one," said SG Puna. "This week I've continued to be impressed by those I have met—their experiences, history, and the resilience and determination which come through in all I've heard, it is just inspirational."
He noted the Niue Minister for Natural Resources, Mona Ainu'u is the region's Political Champion for Gender and Social Inclusion, and commended "her effective participation at COP 27, which saw her elevated as the AOSIS Champion for Gender issues at the negotiations". SG Puna also praised Niue's home-grown solution to raise funds for climate adaptation and mitigation through its Ocean Conservation Credit scheme as part of the Niue Ocean Wide initiative.
"It may be one of the smallest nations on Earth, but Niue can teach us all some really big lessons about what really matters," said SG Puna.
As part of his key sessions with government officials in the Niue cabinet, parliament, and sectoral discussions with gender, private sector and civil society leaders, the 2050 strategy, climate change and sustainable development priorities were discussed.
SG Puna and delegation were able to visit and pay respects with the family of former Niue Premier the late Sir Toke Talagi, who passed away in 2020. SG also attended the final sitting of the 17th Parliament session in Niue, where he spoke to the MPs and reiterated his appreciation of the warm welcome from Niue, Premier Dalton Tagelagi, and his team.
A member of the Forum since 1975, Niue is also part of the eight-member Small Islands States group, and the Polynesian Leaders Grouping.
SOURCE: PIFS/PACNEWS