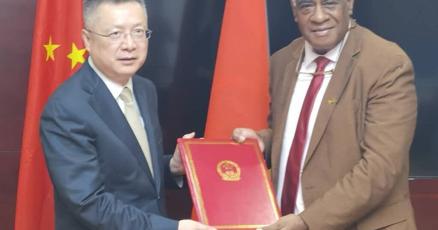 China has given US$500,000, (VT60 million) to aid recovery efforts in Vanuatu after cyclones Judy and Kevin.
Prime Minister Ishmael Kalsakau received the donation from the Chinese Government Special Envoy for Pacific Island Countries Affairs, Qian Bo, on Tuesday last week.
This contribution is additional to the US$100,000 (over VT10 million) donated by the Chinese Red Cross Society.
The Chinese Embassy in Vanuatu stated that it believes this assistance will go a long way in supporting the people of Vanuatu during these difficult times.
Chinese Government Special Envoy Qian also invited the PM to visit China at a convenient time for both sides in the near future.
Qian also paid a courtesy call to the Head of State, Nikenike Vurobaravu, at the State House. They exchanged views on strengthening China-Vanuatu comprehensive strategic partnership.
Meanhwile, the heads of French, Australian, and New Zealand diplomatic missions in Vanuatu have conducted a positive visit to Tanna, as part of the FRANZ Agreement, which promotes cooperation between the three countries.
French Ambassador Jean-Baptiste Jeangène Vilmer, speaking on behalf of the delegation, said the visit aimed to assess the current situation and identify remaining needs.
The delegation received a briefing from authorities in TAFEA province, which indicated that people on Tanna and other islands in the province are currently subsisting on crops damaged by the two recent cyclones, but will require additional food supplies in the next two weeks.
The FRANZ team also discussed the situation on other islands in the province, except for Erromango, where access and telecommunications remain challenging.
The information gathered during the visit will help the team better address the damages in TAFEA Province. Willy Smith, a resident of Middlebush, Tanna, walked a long distance to express his gratitude to FRANZ for their support, noting that the French army is doing great work to clear the roads but many villages, particularly schools, continue to face connectivity issues. Rations and Non-Food Items have been sent to Tanna to assist with relief efforts.
SOURCE: VANUATU DAILY POST/PACNEWS