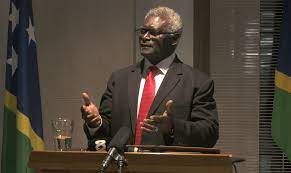 New Zealand has joined with Australia to reject claims that it withheld budget support from Solomon Islands, saying it has asked its top diplomat in Honiara to "set the record straight".
Solomon Islands Prime Minister Manasseh Sogavare has accused Australia and New Zealand of delaying financial support worth some $27 million (US$18 million) during an extraordinary and sometimes fiery press conference on his return from a week-long trip to China.
He also declared that Beijing had agreed to plug that budget gap through funding unnamed "projects", although the Prime Minister provided no detail.
Australia rejected that accusation Monday, and Tuesday New Zealand's Ministry of Foreign Affairs and Trade (MFAT) issued a forceful statement declaring: "We have not withheld or delayed any budget support to Solomon Islands."
"Aotearoa New Zealand remains committed to our development partnership, and over the past year has provided around NZ$10.1 million (US$6.3 million) budget support to Solomon Islands including for education, economic reform and Pacific Games support," an MFAT spokesperson said.
"The New Zealand High Commissioner in Honiara has been tasked to set the record straight with the Solomon Islands government, confirming New Zealand has honoured its budget support commitments."
Australia has already committed some $40 million (US$27 million) in direct budget support to Solomon Islands, as well as $25 million (US$17 million) in election support and a further $16 million (US$10 million) for the Pacific Games. Officials are adamant that money will all be delivered.
New Zealand has also provided around $10 million (US$6 million) on top of its broader development programme in the Pacific Island country.
The ABC has asked the government of Solomon Islands to provide detail on exactly what budget support has been delayed or pulled back but has not yet received a response.
Sogavare's latest broadside against Australia has stirred more frustration in Canberra, with one government source telling the ABC the comments were a "clear misrepresentation".
"He is quite literally making this up," the source said.
Officials are keenly aware that the Prime Minister is trying to play Canberra and Beijing against each other as he tries to extract financial support from nations and burnish his credentials ahead of national elections next year.
But they remain worried about Sogavare's increasing closeness to China and the prospect of the Prime Minister inviting Chinese police into the country in the event of more turmoil – like the riots which shook Honiara in late 2021.
The controversy has also created an opening for the Coalition, which fumed when Labor used the China-Solomon Islands security pact — signed just before last year's federal election — to attack the Morrison government's national security credentials.
"Soon after this government was elected, they criticised us … for our approach, during COVID, to the Solomon Islands," said Acting Opposition Leader Sussan Ley.
"Now it appears their own engagement with the Solomon Islands has fallen away. They need to get their act together," she said.
SOURCE: ABC PACIFIC/PACNEWS