Vanuatu's government has declared a six-month national emergency after back-to-back tropical cyclones battered homes, overturned light planes and uprooted trees, triggering an influx of international aid to the disaster-prone Pacific island nation.
Tropical Cyclone Kevin hit the capital Port Vila late on Friday, two days after Cyclone Judy lashed Vanuatu's islands. There were no immediate reports of injuries or deaths.
Ralph Regenvanu, the minister of Climate Change, said Monday on Facebook that the government had expanded a state of emergency to the entire country "as a result of the joint impacts" of cyclones Judy and Kevin. It previously applied to only parts of the country.
In Port Vila, power was out on Monday and there were communications difficulties, said Fabienne Leo, a BenarNews reporter in the city. Cyclone Kevin had partially lifted the roof from her home and felt similar to the destructive Cyclone Pam in 2015, Leo said.
"From a scale of one to 10, I'd give it an eight," she said.
Cyclones regularly batter Vanuatu, located about 1,900 kilometers (1,180 miles) northeast of the Australian city of Brisbane. The island nation also is prone to earthquakes and volcanic eruptions because it sits atop the seismically active Pacific "Ring of Fire." About 300,000 people live on its 13 main islands and many smaller ones.
The Pacific is in a rare third consecutive year of the weather phenomenon known as La Niña. It is characterised by below-average sea surface temperatures in the equatorial Pacific. Meteorologists say La Niña can cause a higher number of tropical cyclones during the November-April cyclone season in the Pacific.
Roads in Port Vila were strewn with trees and other debris and small airplanes at an airport were flipped upside down, as seen in photos posted online by government officials, diplomats and residents in the wake of the two cyclones.
"Power lines have fallen over. A lot of trees have been uprooted," said Dickinson Tevi, secretary general of the Red Cross in Vanuatu, in an interview Friday as Cyclone Kevin was intensifying.
In between the two cyclones, Port Vila residents rushed to buy flashlights, fuel, food and generators, he said.
He said he was concerned about the situation on other islands.
"A lot of the houses outside of Port Vila are not as strong as the ones in the city," Tevi told BenarNews.
Countries such as France, Australia and New Zealand said they had dispatched aid to Vanuatu and were helping to assess the extent of damage.
A Twitter post from France's ambassador to Vanuatu, Jean-Baptiste Jeangène Vilmer, showed that military and civilian personnel from the French territory of New Caledonia had arrived in Vanuatu on Sunday. He said they would focus on clearing roads and providing clean water and medical care.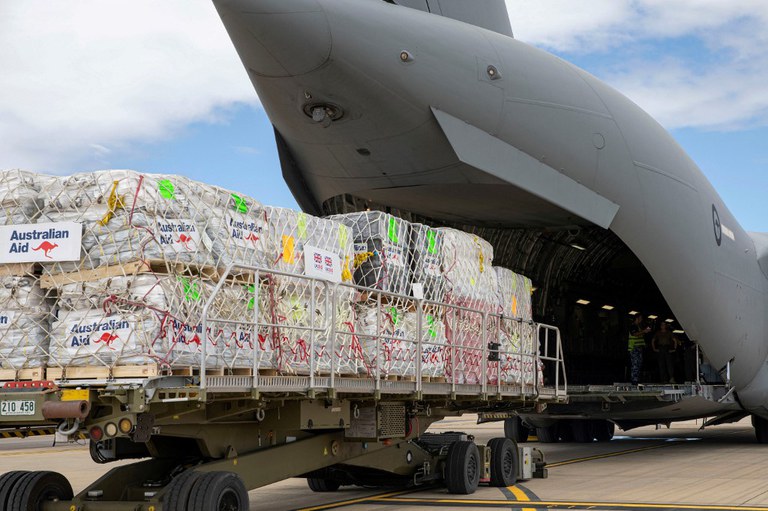 Aid organisations also have relief supplies already stationed in locations across Vanuatu as part of their disaster preparations, according to Tevi.
Many people took refuge in evacuation centres, he said.
The Fiji Meteorological Service said winds from Cyclone Kevin had reached more than 200 kilometers per hour (125 miles per hour) by midday Saturday after it moved southeast of Vanuatu, making it a category 5 cyclone, the severest ranking.
It was the fourth category 5 cyclone in the southwest Pacific since 2020, according to the National Institute of Water and Atmospheric Research in New Zealand.
In October, the institute forecast six to 10 tropical cyclones for the southwest Pacific from November 2022 to April 2023. It said Vanuatu had the highest risk and could suffer three or four cyclones.
The back-to-back cyclones revived memories of Cyclone Pam in 2015. Pam, one of the most powerful tropical cyclones recorded, affected Vanuatu, Kiribati, Tuvalu and New Zealand.
According to World Vision, Cyclone Pam killed 11 people in Vanuatu. The aid group said that was a low death toll given the intensity of the cyclone. It credited Vanuatu's early-warning system and a network of cyclone shelters stocked with relief supplies.
SOURCE: BENAR NEWS/PACNEWS