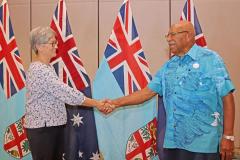 -Foreign Minister Penny Wong has declared Australia shares the vision held by Fiji for a stronger relationship between the two nations.
Speaking in Fiji, Senator Wong announced $10 million (US$6.8 million) in additional funding to help rebuild schools and critical infrastructure that were destroyed by a tropical cyclone two years ago.
She said the buildings would be built to meet a higher standard to withstand natural disasters.
"Your expression of hope for renewal and strengthening the relationship, we share that," she told reporters on Wednesday.
"I hope to build on our shared priorities."
Senator Wong is joining a Pacific leaders retreat in Fiji after inking a new agreement with Kiribati.
Australia will scale up security and economic co-operation with Kiribati after Senator Wong signed a "nurturing the partnership" memorandum of understanding with President Taneti Maamau.
The new agreement includes upgrading the wharf on the island of Kanton.
Concerns were raised in 2021 after China provided a grant to conduct a feasibility study on upgrading the island's airstrip.
The Kiribati government said at the time the rehabilitation was for "civilian use only".
The remote island is roughly halfway between Hawaii and Fiji and housed a military aircraft base in World War II.
A second patrol boat will be provided by Australia in an effort to increase maritime security and surveillance while broader law enforcement, including peacekeeping and cyber security, will also be targeted.
Australia will also work to increase climate resilience efforts as Kiribati's islands face rising sea levels.
"We hope that the MoU that we've just signed will provide a significant leg-up to future areas of co-operation," Maamau said.
Senator Wong said: "We believe that ultimately our security and your security, our prosperity and your prosperity, our resilience and your resilience, are intertwined."
Tensions were strained between Canberra, Wellington and Tarawa when Australian and New Zealand judges in the Pacific nation were stood down and the rule of law was effectively suspended with no court resource available to challenge government decisions.
The appeals court quashed the government's attempt to deport Australian judge David Lambourne.
The attorney-general was then installed as the nation's top judge after the New Zealand chief justice was stood down after quashing the deportation order.
Both Senator Wong and Maamau will be attending the Pacific Islands Forum leaders meeting in Fiji.
SOURCE: AAP/PACNEWS