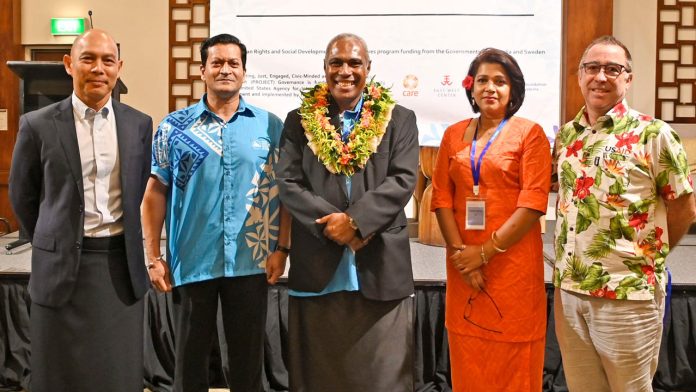 Climate change is an emerging human rights issue posing a serious risk to the fundamental rights to life, health, food and an adequate standard of living of individuals and communities across the world.
While speaking to regional human rights stakeholders in Nadi this week, Attorney-General Siromi Turaga said in the Pacific, climate change was threatening the health of its people, as well as their economic and social development.
"Extreme weather events, especially cyclones and floods are displacing communities, causing injuries and psychological trauma, and are increasing the risks of infection and malnutrition,"  Turaga said.
"Climate change issues are brought to the forefront at the international arena through the work of the National Human Rights Institutions (NHRIs) through their monitoring and reporting roles of human rights situation at the national level," he said.
Turaga said the two-day Pacific Regional Forum on NHRIs in Nadi was an important platform to discuss the role of the governments and NHRIs in the protection of the rights of Pacific islanders.
"As Pacific island countries, we often share common challenges, for instance, the lack of financial and human resources, loss of institutional knowledge due to staff turnover and many more that may delay the establishment of NHRIs or ensure the effectiveness of existing NHRIs.
"What is reassuring is that there are assistance available from our key partners, most of which are present here.
"Our development partners are vital in our journey as we strive to uphold the wellbeing and dignity of our people through the protection of their rights.
"I encourage you all to take advantage of this opportunity and share your experiences and lessons learned particularly from those countries that have established their NHRIs and to encourage those that are in the process of establishing their own human rights institutions so that we continue to move the Pacific forward in our work to promote and protect human rights and dignity."
He said the obligation to respect, protect and fulfil the rights of individuals rests not only with the government but with civil societies, NGOs and independent institutions particularly National Human Rights Institutions (NHRIs).
Siromi said these institutions were independent State bodies with a constitutional and legislative mandate to protect and promote the fundamental rights of all people in their countries.
"It monitors and reports on the domestic human rights situation and assist their State to meet its international human rights obligations," Turaga said.
"NHRIs also provide advice so that international human rights standards are properly implemented at the national level." He said the Fiji Human Rights and Anti-Discrimination Commission was established in recognition of this mandate.
"Since its inception in 1999, the commission has received and investigated complaints of alleged human rights violations and have also instituted legal proceedings in the High Court in Fiji.
"In 2018, the commission successfully instituted proceedings in the High Court after investigating a complaint of arbitrary detention of a 10-year-old in a police station. "The child was awarded $25,000(US$12,500) by the High Court of Fiji.
"In another matter, a complainant was paid $40,000(US$20,000) in an out of court settlement initiated by the commission for being arbitrarily detained."
He said the commission also carried important training and awareness in schools.
"In 2022 alone, five schools and 18 community visits were carried out with 159 high school students and 425 community participants that participated in the human rights awareness and training carried out by the commission.
"Last year, the commission completed its reaccreditation with the Global Alliance of National Human Rights Institutions and was warmly welcomed as a new member to the Asia Pacific Forum on National Human Rights Institutions.
"Accreditation with the Global Alliance of National Human Rights Institutions allows NHRIs like our commission to have a voice at the Human Rights Council to bring our issues onto the global agenda and mobilise the support that Fiji and the Pacific needs, especially on climate change."
The event was organised by the Pacific Community's Human Rights and Social Development Division and the Asia Pacific Forum (APF) focusing on the important roles that NHRIs play in the protection and promotion of human rights in each participating regional country.
SOURCE: FIJI TIMES/PACNEWS