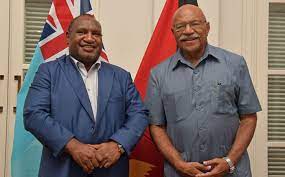 Any human rights issues in West Papua must not be overshadowed by the fact that the country remains under the sovereignty of Indonesia.
These were the sentiments expressed by Prime Minister Sitiveni Rabuka and his Papua New Guinea counterpart James Marape at a news conference in Suva Tuesday.
"West Papua has been an issue that has resurfaced many times in the margins of PIF (Pacific Island Forum) meetings and engagements," Marape said.
"From a PNG context, we sympathise with Melanesians on the other side — but there are more Melanesians on the other side than just West Papua.
"From my indications I've received possibly over 10 million Melanesians living also in Indonesian sovereignty.
"At the moment West Papua, remains for us a part and parcel of Indonesia."
Marape said any human rights issues in West Papua would be dealt from a human rights context but in terms of sovereignty, West Papua "remains part of Indonesia".
"We don't want to upset the balance. Inside PNG right now we have sovereignty issues. We have no right to talk about other countries sovereignty issues as we control our sovereignty matters."
Rabuka echoed similar sentiments.
"We have Micronesian communities in Fiji, we have the Melanesian communities in Fiji and their original home countries now respect the sovereignty of Fiji," the Fijian PM said.
"But I'm sure they have direct people-to-people contact with them to enhance their livelihood here and also promote or continue to promote their culture because of their heritage and the same thing with the Melanesians of Indonesia.
"We must respect the sovereignty issue there because it could also impact us if we try to deal with them as a separate nation within a sovereign nation so we must respect that."
A West Papua delegation, led by United Liberation Movement for West Papua (ULMWP) president Benny Wenda is in the country, seeking inclusion into the Melanesian Spearhead Group (MSG).
SOURCE: FIJI TIMES/PACNEWS