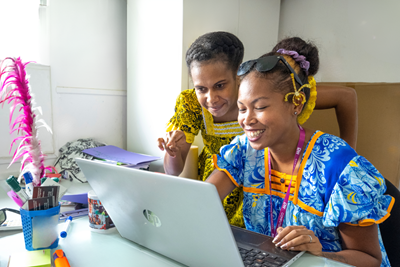 By Caleb Jarvis, Trade and Investment Commissioner, PTI Australia
From media to development strategies, industry transformations to education, we are seeing unequivocally that the future is digital. In this instance, the Pacific Islands is no exception. In recent years the oceanic stage has been set for digital prosperity. Connectivity and technology gains have been rolled-out and adopted at accelerated rates, strategic priorities from governments, organisations and agencies have been laser focused on the allure of digital solutions, and most importantly the Pacific people themselves, have driven a rapid uptake in online activity.
Coupled with the rise of digital transformations is the simultaneous upswing of the service sector. Despite conventional wisdom placing the emphasis on low-skill manufacturing and agriculture as the hallmark of business in developing countries, according to the World Bank these economies are shifting their gaze to the services sector to mirror the models of developed economies. The services sector account for approximately 75 percent of economic growth in developed nations, and only 45 percent in developing countries. This is set to change.
Digital technology has been rapidly adopted by communities across the region. This can be seen in the uptake of social media, and more specifically Facebook, with over half the population being active on the platform in both Samoa and Fiji. Infrastructure continues to make notable gains, with the last decade seeing more fibre-optic cables deployed in the Pacific than any other region in the world. Internet access has materialized swiftly with 10 countries upgrading from single satellite connections, Fiji increasing its mobile broadband subscriptions 10-fold and Tonga it's internet use 5-fold.
As the Trade and Investment Commissioner of Pacific Trade Invest (PTI) Australia, I am excited by the tremendous opportunities the nexus of these two trends, digital and service delivery, offer the Blue Pacific. The expansion of international trade of digital services yields potential to tap into foreign markets and earn international rates without having to leave home.
Recent data shows that the global digital services market is expected to reach a staggering $9.2 billion by 2028, with a projected compound annual growth rate (CAGR) of 15.96 percent over this same period. The Pacific has the potential to play a significant role in this growth as well as to benefit from the multitude of opportunities the sector offers. The increasing rate of internet penetration in the region has unlocked possibility for immense growth, prosperity, and sustainable pathways for the future generations of tomorrow.
The digital services sector offers a wide range of opportunities for individuals and communities throughout the Blue Pacific region, with business process outsourcing (BPO) and information technology outsourcing (ITO) work only the tip of the iceberg. Copywriting, website building, administrative work, social media management, graphic design, consultancy, financial services, multi-media production and editing, translation, programming and data entry are just a few of the many forms of work that exist for those with the skills, knowledge and access to internet and a computer, to succeed in the digital economy.
Unlike other skilled service-based professions, there are rarely stringent education qualifications required for field entry nor is the work location bound. With few barriers to entry, work in the digital sector has been found to be inclusive and transformative to women and youth, providing opportunity to overcome social, economic, political and physical constraints. It is a sector suited towards the Pacific where unemployment, particularly that of women and young people, is high with youth unemployment at nearly double the global rate.
Additionally, the Pacific region boasts a vibrant cultural heritage that has been passed down from generations. Its rich history of storytelling, dance, and traditional knowledge serves as a valuable resource for the region, to be traded with autonomy, choice, and indigenous leadership. The potential for this cultural heritage to be transformed into a sustainable source of income for individuals and communities is immense.
The creative and cultural industries have proven to be a powerful source of growth in many parts of the world, and the Pacific region is well placed to leverage its intellectual property in this space on its own terms. With a delivery method that is not exploitative but instead, done with dignity and sovereignty. Whether it is through the production of cultural and creative products, the development of cultural tourism, or the preservation of traditional knowledge, the Pacific region holds immense potential to transform its own stories into a thriving source of economic and societal prosperity. It is possible to open up new and innovative economic pathways that will not only preserve these valuable cultural traditions, but also provide a source of livelihood for people across the region.
As was highlighted in the UNCTAD's recently released Pacific Digital Economy Report, remote work and online commerce are becoming the new norm. With this in mind, the Pacific region must seize this opportunity to participate fully in the digital economy. PTI Australia recognises the tremendous potential of the digital economy and is committed to supporting the region in its efforts to harness this opportunity.
In this spirit, PTI Australia is proud to announce that it will be investing in a pilot Export Services Program to connect individuals from the Pacific region with freelance work in the services sector. This program, due to launch in Q2 of 2023, will provide Pacific-based individuals with the tools and support they need to succeed in the digital economy and to tap into the growing demand for digital services. While still in the early stages of development, we recognise the inherent need for such a program. By charting a course towards a digital future, we have the potential to steer the Pacific towards a more sustainable, equitable, and innovative horizon, where opportunities for growth and prosperity are abundant and equitable.
SOURCE: PTI AUSTRALIA/PACNEWS