Pacific Islands Forum Heads of States have started to arrive in Fiji Monday.
The leaders will be in the country for the Pacific Islands Forum Special Leaders Retreat that will be held from 24 – 25, February in Nadi.
Arriving into the Nadi International Airport today was President of the Republic of the Marshall Islands David Kabua and the Premier of Niue Dalton Tagelagi.


They were both greeted and welcomed by the Minister for Lands and Mineral Resources Filimoni Vosarogo.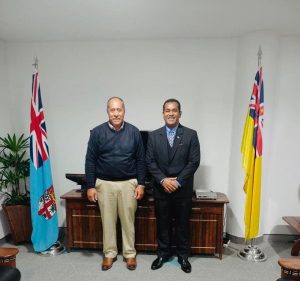 Meanwhile, Papua New Guinea Prime Minister James Marape travelled to Suva, Fiji Monday to attend a bilateral meeting.
He will meet Fiji President, Ratu Wiliame Katonivere and Prime Minister Sitiveni Rabuka, during his visit.
PM Marape will also meet with Pacific Islands Forum (PIF) Secretary General Henry Puna ahead of the PIF Special Leaders' Retreat, which has been called by Fiji PM and PIF Chair Rabuka, a milestone event in regionalism.
PM Marape will return to Papua New Guinea on Wednesday, 22 February for another commitment.
Foreign Affairs Minister, Justin Tkatchenko will represent PNG at the Retreat and present the country statement.
PM Marape said, "I will only be able to hold a bilateral with Fiji due to my tight schedule and will return to the country on Wednesday. Fiji and PNG are significant members of our Pacific Islands' family of nations and play a leading role in many issues affecting our region. It is crucial to establish strong government-to-government, business-to-business, and people-to-people relationships with Fiji and other Pacific nations."
Minister Tkatchenko will attend on behalf of PNG, the meeting will focus on Forum solidarity.
Additionally, the meeting will see the transition of the Chair of the Pacific Islands Forum from Fiji to the Cook Islands.
Prime Minister of the Cook Islands, Mark Brown will host the 52nd Pacific Islands Forum Leaders Meeting in the fourth quarter of 2023.
Before the Leaders' Retreat, there will be a meeting of the Forum Officials Committee on Tuesday, 22 February 2023.
The meeting will consider and finalise the operationalisation of the Suva Agreement, which was endorsed by Forum Leaders at their meeting in Suva in July 2022.
SOURCE: FIJI GOVT/LOOP PNG/PACNEWS