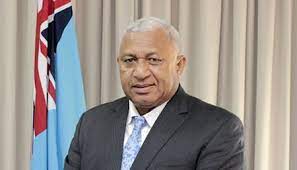 Fiji's Opposition Leader Voreqe Bainimarama was suspended for three years from Parliament effective Friday for statements he made against the President last Monday.
When the motion for his suspension was first introduced by Leader of Government in Parliament Lynda Tabuya, Prime Minister Sitiveni Rabuka said while it was "a very serious matter", he wished the Privileges Committee had put in a proviso that if he apologised, "there would be a reduction in the award".
As a result, Tabuya moved for an amendment to reduce the suspension to 18 months.
A long debate ensued, the Opposition expressing concerns at the terms of the punishment because they believed he did not do anything wrong. MP Jone Usamate said Bainimarama should only apologise if he had done something wrong, and that nothing he had said was seditious.
"You cannot apologise for something you have not done," he said.
"All the accusations have been imputed, there have been no statements inciting anybody."
With the Opposition refusing to accept the reduced term, Tabuya sought the Speaker's approval to revert to the original decision of three years.
Parliament voted on the motion and it was passed with 27 ayes, 24 nos and four did not vote.
Speaker Ratu Naiqama Lalabalavu had directed the Privileges Committee meet to determine whether Leader of Opposition Voreqe Bainimarama breached Standing Order 62 when he launched a scathing attack on President Ratu Wiliame Katonivere in Parliament.
The former prime minister had said the President had "failed the Fijian people and he will go down in history as the person who aided and abetted the most incompetent and divisive government".
The Privileges Committee had also decided the former PM issue a written apology to the President within 14 days from February 17, 2023, that he issue an apology to the public within 48 hours from 17 February 2023, that during the period of suspension he not enter the parliamentary precincts, and that if he failed to comply, necessary enforcement measures be imposed to ensure compliance.
Meanwhile, FijiFirst leader Voreqe Bainimarama remains as Leader of the Opposition despite his suspension from Parliament on Friday for breach of privilege.
This is the view of Suva lawyer Richard Naidu, who says he believes thatBainimarama is entitled to retain the salary and other rights that go with the job – although "there might be a legal argument" about that.
Naidu said that the Leader of the Opposition was different from other MPs who had previously been suspended.
"He is not an ordinary MP. His position is established under the Constitution. Under Section 78, he is elected from among the Opposition members," he said.
"Under Section 78 of the Constitution, he keeps his job even after the dissolution of Parliament."
Naidu said the Opposition Leader had other constitutional roles outside Parliament, including being a member of the Constitutional Offices Commission (COC).
"He is also one of the people who may nominate a new President for Parliament to vote on under Section 84.
"It seems that he can continue to do these jobs – and to keep his salary, which Section 80 of the Constitution says "must not be varied to his disadvantage".
"Other suspended MPs have had their salary payments suspended while out of Parliament.
"So there might be a legal argument about that.
"But other suspended MPs did not hold a substantive office as Bainimarama does."
Naidu said that despite the suspension, Bainimarama remained an MP – however, he could not attend Parliament for three years.
"While he is suspended, he is not replaced in Parliament. This means the voting strength of the FijiFirst Party drops to 25 while he is suspended.
"It is for the Opposition MPs to work out how they will operate in Parliament whileBainimarama isn't there. But while he continues to hold the post, a new Leader of the Opposition cannot be appointed.
"Under the Constitution, if a majority of Opposition members want Bainimarama out, they could vote him out.
"He could resign as Leader of the Opposition only and keep his seat as an MP. Or he could resign both as Leader of the Opposition and as an MP.
"If he resigned as an MP, a new FijiFirst Parliamentarian would come in; the next one on the list of candidates who missed out in the 2022 election," he said.
SOURCE: FIJI TIMES/PACNEWS