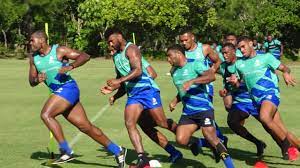 Most of the Swire Shipping Fijian Drua players stuck to their roles in the last two Super Rugby Pacific warm-up matches against the Rebels and Force.
This is the view of Head Coach Mick Byrne who believes the next few days are vital for the side.
Byrne said this week is a crucial part of their season because they'll play their first match in the competition.
He said there may be a lot of expectations but the players understand their roles.
"Our expectations don't change each week we've got to get our jobs done, we've got all our individual roles prepare the week well, that's probably my biggest expectation on the boys is to get home and get the preparation done and prepare themselves as well as they can to come for the first match of the year."
Meanwhile, Fijian Drua CEO Mark Evans says he will be surprised if there is not a double digit number of Drua players selected in the Flying Fijians for the 2023 Rugby World Cup team to France this year.
Speaking to the Fiji Times, Evans said the Drua was already giving Fijian rugby players another option to play international rugby.
He said about half the squad chosen was from the Flying Fijians squad to Northern Tour in November last year and that he thought the number of players progressing from the ranks of the Drua would increase.
"When you look at the last two world cup squads for Fiji in 2015 and 2019, most players were playing overseas," the Welshman said.
"That will not be the case in 2023.
"I'm not picking the team but I would be surprised if there are not double figures in terms of Fijian Drua players getting to the world cup."
The world cup will be held from 08 -28 October September.
The Drua takes on Moana Pasifika at 3:35pm on Saturday.
SOURCE: FBC SPORTS/FIJI TIMES/PACNEWS