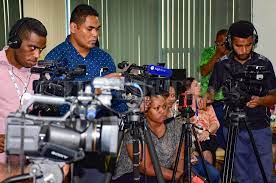 Fiji's Attorney-General Siromi Turaga publicly apologised to journalists yesterday for the harassment and abuse they endured during the Bainimarama government's reign.
He was one of the panelists invited to speak following the launch of a report titled Fiji Media Industry Development Act 2010: An Analysis organised by Dialogue Fiji.
Turaga and other invited guests heard for the first time a harrowing recount of abuse suffered by senior journalists at The Fiji Times during editor-in-chief Fred Wesley's address.
Wesley, who was one of the four people implicated in sedition charges in 2018, spoke of his experience being charged and having the threat of going to prison hanging over him until he and his team were ultimately acquitted by the High Court in Suva.
"A walk that usually took me about 10 minutes to get from my office to the High Court on that particular day took almost an hour," he said.
Wesley also shared how the feedback received from people from all walks of life had inspired and motivated him to stay and carry out the duty the newspaper had to the public.
He also shared an account of the newspaper's chief of staff Margaret Wise and deputy chief of staff Felix Chaudhary, who both were intimidated and harassed by the military.
Wise was threatened by soldiers at The Fiji Times Lautoka office in 2010, where she was the bureau chief at the time. The soldiers in question were after her mobile phone, which she refused to hand over.
Wesley said following discussions with their legal counsel, she was ultimately advised to hand over her phone. In fear of further repercussions, Wesley said Wise and her family had to be relocated for their safety.
In the case of Chaudhary, he was taken in for questioning by military personnel while he was covering an event at Tanoa Waterfront Hotel in 2011.
Then bureau chief Wise tried to intervene, however, she was unsuccessful as he was taken to Nadi. In Chaudhary's words, he was genuinely "scared for his life" as the military officers kept taunting him about what was going to happen to him.
Ultimately, when he arrived at an abandoned Government building office in Nadi, he saw the Fiji Trades Union Congress (FTUC) national secretary Felix Anthony also in the building.
Chaudhary was then quizzed about a series of front page stories he had written and physically abused before being warned to refrain from writing such stories and to be "like other good journalists".
At another point in time, Chaudhary was also locked up in a police cell after "orders were given from above". Upon hearing the stories, Turaga also said both he and the Prime Minister Sitiveni Rabuka also had stories to tell.
"In my capacity as Attorney-General, I publicly apologise for the actions taken by the previous administrators in terms of media freedom.
A lot of people were victimised," he said. Turaga also said he truly sympathised with what the journalists had gone through. There were also suggestions from those at the report launch for journalists to document such experiences so they may never be erased from history.
Meanwhile, for some 13 years, the threat of being persecuted under the Media Industry Development Act (MIDA) 2010 has hung over the heads of Fiji's journalists.
Media freedom in the country has been curtailed to such a level that Fiji was ranked 102 out of 180 countries by Reporters without Borders in 2022.
The Act, which was constructed after a mere two-hour meeting with industry representatives, contains exorbitant penalties and jail time for journalists, editors and media companies for any breach.
And now that change seems to be on the horizon after the coalition Government has begun taking steps to keeping its campaign promise of a free press by either repealing, replacing or amending the existing Act.
And in line with those plans, a report titled Fiji Media Industry Development Act 2010: An Analysis has been released.
Penned by University of the South Pacific's (USP) head of journalism Professor Shailendra Singh, Dialogue Fiji executive director Nilesh Lal also contributed to the report.
During the launch Thursday, Lal said governments in the past — led by Mahendra Chaudhry and Laisenia Qarase — had tried to regulate the media, however, they were met with fierce opposition.
However, in the case of the Bainimarama-led interim administration, he said they were already operating in a very different political context.
"They were able to formulate the decree that created precarious conditions for the media industry, which the media and other allies were powerless to protest against," he said.
Attorney-General and Minister for Justice Siromi Turaga, who was present at the launch, said Government held media freedom in the highest regard.
"The Government recognises the pivotal role the media plays in Fiji in ensuring the circulation and responsible reporting of information as was evidenced in the COVID-19 pandemic and during the 2022 General Election," he said.
"That being said, the Government reaffirms its support of a free and independent and responsible media."
The Fiji Times editor-in-chief Fred Wesley and Communications Fiji Ltd (CFL) news director Vijay Narayan represented the media and voiced their concerns in relation to the Act. Both claimed it had stifled journalists for more than a decade.
They called for an even playing field for all media organisations in the country and to look into the prospect of increasing shares for foreign ownership to allow companies to grow.
The report also listed out a number of recommendations echoed by both editors. These include: clarification of the content regulation clause, revisiting media ownership reforms and removal of hefty fines….PACNEWS
SOURCE: FIJI TIMES/PACNEWS