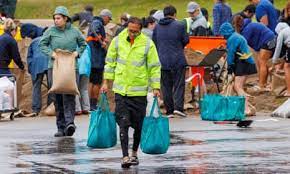 Evacuations are under way and tens of thousands of people are without power as Cyclone Gabrielle batters New Zealand's North Island, where the largest city is still recovering from record rain last month.
As the former tropical cyclone skirted New Zealand's coastline, the MetService issued its highest ever number of red weather warnings for intense rain and gale-force winds, including for Auckland, the largest city, which was hit by flooding a fortnight ago.
The city's 1.7 million residents were asked to be vigilant and prepare for the worst. The city could see up to 200mm of rain on Monday, with the Coromandel area to the east in line for 400mm, the MetService said.
"We are looking down the barrel of a very severe and potentially devastating weather event," said Rachel Kelleher, the deputy controller of Auckland Emergency Management.
At a briefing on Monday morning, the emergency management minister, Kieran McAnulty, urged people to finalise preparations and then hunker down.
"To those where the weather hasn't hit but it's projected to, please use the time that you've got to get prepared," he said. "Today is the critical day in the event with a highly dangerous combination of high winds and heavy rain."
Many schools and all local council services were closed on Monday. Auckland airport was open but most of the day's domestic and international flights were cancelled.
The city's harbour bridge was closed owing to high winds, and train services were suspended until Monday afternoon. Commuters were warned of bus cancellations and urged to stay home if possible.
Late on Sunday night, the storm reached Northland at the top of the North Island, just above Auckland, where nearly 140mm of rain fell in an hour and severe winds sent trees and power lines tumbling. About 58,000 homes were without power on Monday, with some told it may not be restored for a week.
In coastal and low-lying communities, evacuations were under way through Monday morning. In the city of Whangārei, the city council advised those living in the central city and business district to self-evacuate by high tide at 2pm, saying the entire area was at risk of significant coastal flooding.
Rain and wind warnings were in place throughout the North Island for Monday when the worst deluge was expected, but a storm surge could coincide with a high tide in the early hours of Tuesday morning, the MetService said.
The forecaster said on Monday it had recorded wind gusts of 150-160 km/h, and some stations in Gisborne recorded rain rates of 15-30mm in a single hour. Wind gusts also reached up to 140km/h in Northland and 135km/h in the Hauraki Gulf, outside Auckland.
In a briefing on Monday, the Auckland mayor, Wayne Brown, said: "As long as it's safe, stay home … It's going to be a hard night and a very difficult week. For many, the recovery will be long."
Kelleher said the severe winds and rain would come on top of already sodden land, risking structural problems, landslips, falling trees and power line problems. The whole Auckland region was at risk of flooding, Kelleher said.
He said 370 households were still in emergency accommodation as a result of last month's flooding.
The chaos from that deluge was described as the worst "climate event" in New Zealand's history by insurers, who have received tens of thousands of claims in the fortnight since. Four people were killed when waters swept down suburban streets and highways.
High demand for sandbags in the region remains, and as this week's storm approached, people were asked to prepare emergency packs and remove any blockages around drains and gutters to lessen the risk of floods.
The low pressure generated by the system could cause storm surges not seen for 40 years. The MetService said gale-force winds could extend 400km from Gabrielle's centre. The storm was expected to intensify on Monday "as the low centre curves southwards, towards the Great Barrier Island and Coromandel Peninsula", the agency said.
On Saturday night the cyclone passed over Norfolk Island, an Australian territory, downing trees, blocking roads and causing power outages.
Dr Kevin Trenberth, an Auckland-based climate scientist, said hundreds of homes were still damaged from the "extraordinary" downpours at the end of January. "This isn't just these two events. We've had a raft of subtropical low pressure systems that have bombarded New Zealand this year," he said.
Trenberth, a distinguished scholar at the US-based National Center for Atmospheric Research and an honorary academic at the University of Auckland, said ocean temperatures around New Zealand were very warm and this provided fuel for storms and added moisture for rainfall.
"But there's a clearly a global warming signature to this," he said, pointing to the long-term warming of oceans.
SOURCE: THE GUARDIAN/PACNEWS